IT Consulting | IT Support | Managed Services | New Jersey Computer Support Services
ICS Secure Cloud | Backup & Disaster Recovery Services
Natural disasters only make up 3% of the cases of catastrophic data loss to businesses. The other 97% of disasters are caused by hardware \ software failures and other issues all which can usually be prevented by the use of on-site BDR services. This is why real-time replication to an on-site backup and disaster recovery device is one of the best ways to protect your business critical data and prevent downtime. If your company has BDR services you will be able to rest easy knowing no matter what happens, your IT systems, servers and critical business applications will be highly available.
Request Information
Schedule a Free IT Assessment
BDR Services - Features & Benefits:
Protect against data loss and unwanted down-time with local failover and cloud failover
Protect against ransomware and encryption from hacker trade craft
Instant local server failover and recovery plus WAN failover to ICS Secure Cloud Datacenter
Failover of server based mission critical applications
Instant bare metal restores and application recovery
Fully managed and monitored turnkey backup and disaster recovery solution
Enterprise Grade Dell PowerEdge Server Hardware
All XEON Processors used with RAID-5 or RAID-10 Storage Configurations
Includes on-site hardware and software warranty and support
Compatible with Hyper-v, VMware, Citrix and Windows Physical or Virtual Servers
Backup and Disaster Recovery Pricing:
| MODEL | RAM | VMs | LOCAL STORAGE | CPU CONFIG | MONTHLY COST |
| --- | --- | --- | --- | --- | --- |
| | GB | | | | $399* |
| | GB | | | | $499* |
| | GB | | | | CALL |
| | GB | | | | CALL |
| | GB | | | | CALL |
| | | | | | CALL |
| | | | | | CALL |
* Requires a 12 month commitment and 3 month deposit paid up front to be applied to the last 3 month of the agreement. Other models and custom solutions available. ICS SMB Managed IT support plan enrollment required to receive advertised pricing.
Call now to speak with a BDR specialist: (201) 280-9160
Key Features & Benefits:
Most comprehensive DR solution when used with ICS Secure Cloud Backup
Dell PowerEdge Enterprise Hardware compared to our competition's "white boxes"
Fully managed, monitored and maintained by ICS support team
Includes 30-day business continuity DR-site hosted Solution
Fully customized solutions available tailored to meet your business needs
Learn more about our Cloud Solutions
ICS is an award winning Microsoft Certified Silver Partner and Small Business Specialist
As a Microsoft Certified Partner, we are experts at managing and deploying Microsoft® Windows® networks. Our network solutions help you protect your data, increase productivity, and present a more professional image to customers.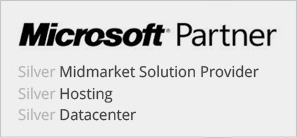 Why Choose Us?
Microsoft Certified Small Business and Azure Cloud Solutions Provider
24/7 Managed Services and Cybersecurity Bundled into Support Plans
100% Customer Satisfaction and 5 Star Google Business Review
100% US Based Nationwide Technical Support Team
Contact Sales: 201-280-9160