IT Consulting | IT Support | Managed Services | New Jersey Computer Support Services
Careers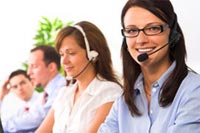 Integrated Computer Services is Growing. We are looking for talented and motivated individuals who are ready to help us provide world class support and industry-leading solutions to our valued clients. Our support team is made up of highly motivated and talented support staff who have technical degrees, certifications and a strong will to solve the toughest of IT challenges presented to them.
Integrated Computer Services, Inc. Careers
Help Desk Analyst | Network Support Technician The ideal candidate will have a solid background in networking technologies, concepts, and protocols. A willingness to acquire and maintain knowledge of the latest standards, products, and practices relating to the IT field while providing professional and prompt service. Customer services skills must be top notch to be able to maintain Integrated Computer Services, Inc. Standards.
Qualifications: 3-4 years of IT work experience and technical training or certification equivalent.
Job description: Onsite and remote support of clients technical needs. Administration and monitoring of client servers, workstations, applications and related networking components, a good understanding of PC troubleshooting is required as well. Candidate must have a car to commute to client sites.
Technical requirements include:
PC component installation, configuration, and troubleshooting \ Virus Removal
Microsoft Windows Server and Client operating systems
Help Desk support and knowledge of Microsoft Windows 7 and Windows 8
Solid understanding of LAN/WAN topology, network protocols switches, and firewalls
* Microsoft Certification preferred but not mandatory. CompTIA A+ and \ or Network + required
Integrated Computer Services, Inc. offers competitive pay, medical and disability insurance, paid time off, and more. For more information, please contact our Human Resource Department at [email protected]
Call now to speak us:(201) 280-9160
Why Choose Us?
Microsoft Certified Small Business and Azure Cloud Solutions Provider
24/7 Managed Services and Cybersecurity Bundled into Support Plans
100% Customer Satisfaction and 5 Star Google Business Review
100% US Based Nationwide Technical Support Team
Download our brochure to learn more about us

Download our company overview for more information about us

Download Brochure
We Offer:
Microsoft Silver Certified Partner
Dynamic Support | Managed IT
Cloud Computing for Business
Our NJ Services Area

Contact Sales: 201-280-9160