IT Consulting | IT Support | Managed Services | New Jersey Computer Support Services
Managed IT Security Services in New Jersey
As a NJ Managed Security Services Provider (MSSP), we have a deep understanding of cyber threats and security best practices. Let's face it, most companies don't have the time and resources to maintain effective, around the clock security. That's where our managed IT security company comes in.
Why Use Our NJ Managed IT Security Services?
As a NJ managed security services provider we are at the center of many corporations' IT security operations. We tighten the matrix of technology, people, and processes by providing enterprise class, advanced security solutions to small and medium businesses. From security awareness training to multifactor authentication we are experts in IT security and can help your business mitigate IT security risks and employ the latest security technologies designed to safeguard your IT infrastructure and protect your business critical data.

Schedule Your IT Security Assessment

Call now to speak with a cyber security expert: (201) 280-9160
ICS Managed IT Security Includes:
Free Multipoint Cyber Security Assessment for Managed Service Clients

As part of our managed IT services discovery and onboarding, we conduct a full analysis of the configuration and setup of all Microsoft servers and Active Directory. This will include recommendations to improve the cyber security of your network infrastructure, active directory and Microsoft Windows server operating systems environment.

Cyber security is top priority, as first line of defense we perform a firewall configuration analysis. This is key to ensure there is proper network protection. This process includes verifying open ports, security services check (AGSS, CGSS, IPS, Gateway Antimalware, and Antivirus), firmware check, firewall and NAT policies check, data leakage prevention check, plus we include a separate spam filter analysis. We also will perform a dark web scan and confirm that your company does not have any compromised email or active directory accounts. Finally, we will analyze your antivirus configuration, the setup of your EDR & MDR, perform a patch management analysis, review / analyze your Active Directory group policies, and perform an external vulnerability scan. The goal is to uncover any and all weaknesses in your network and IT infrastructure so we can keep your business up & running, and keep your business critical data protected. As a first step for onboarding new clients, we remediate all security vulnerabilities found in our cyber security assessment.

Multifactor Authentication | Dual Factor Authentication

Upon logging in, our Multifactor Authentication not only requires the user to enter their password but also requires the end user to approve of the login via an app installed on their smart phone, an automated phone call or a text message. If you are not logging in to your corporate network or your work computer then you should never get a prompt, phone call or text message from our Multifactor Authentication service. If you get a prompt or are contacted by our Multifactor Authentication service and it's not you who is trying to log in then you can simply deny the login and block out the unauthorized user. This extra layer of security makes it nearly impossible for an intruder to gain access to your network, computer systems and business critical data.

Managed SonicWALL Internet Security Appliance with AGSS \ Capture

The first step to securing a network is to have an enterprise class firewall properly configured to prevent the wrong people from getting in to your network all while providing your remote workforce a secure entry point to your network. We go a step further with AGSS \ Capture (advanced gateway security services). AGSS \ capture with advanced threat protection is a multi-engine sandbox that runs and inspects suspicious files, programs and code in an isolated cloud-based environment. Once AGSS deems the code within an email attachment or any other Office based document is safe via code behavioral analysis, the file is then released.

Cyber Security Compliance Management, Consulting, and Support

With hacker capabilities increasing every day, cyber security compliance is required for more and more businesses. We provide compliance services to keep your business in line with standards such as PCI, CMMC 2.0, NIST, DFARS, and HIPPA. We can help protect your customer and patient data, while ensuring your business continues to meet compliance standards.

Secure Cloud Security Awareness Training

ICS Security Awareness training is a cutting edge solution that will help your employees identify and avoid email phishing scams. Our solution is built around simulated phishing attacks which test and train your employees on what to watch out for. The goal of this solution is to make every employee in your company proficient at determining the difference between a valid and illegitimate email. We provide reporting on which employees fall victim to common phishing attacks and then train them to be more security savvy.

Security Patch Management for Microsoft and 3rd Party Software

Our security patch management solution aims at overcoming the vulnerabilities that create security weakness, corrupt critical system data or cause system downtime. Such software vulnerabilities can be a nightmare for small businesses. Our security patch management service not only provides scheduled patch deployment but we also continuously scan for network vulnerabilities and missing security patches and apply them weekly to mitigates risk.

Security Services Helpdesk

We provide unlimited access to our network security team for security related questions and analytics. We also include compliance and auditing consulting and guidance.

RMM Dashboard | Weekly Health and Uptime Reporting

We provide our clients access to our Security dashboard where they can login and see (in real-time) the health and status of their servers and network. We also include weekly health and uptime reporting so you are always up to speed on the status of your IT infrastructure security.

ICS Secure Cloud Web Security and Protection

ICS Secure Cloud Web Security and Protection is a comprehensive content filtering, malware protection solution that is powerful and affordable for businesses of all sizes. It enforces Internet usage policies by blocking access to websites and Internet applications that are not related to business and it completely eliminates spyware and other forms of malware from your organization.

24/7/365 Managed Threat Detection and Response - 24/7/365 SOC Services

As a Managed Security Services Provider we are experts in managing and administering endpoint security solutions. We not only deploy Enterprise Antivirus, but also Managed Detection and Response (MDR) solutions. With the help of our 24/7 Security Operations Center (SOC), you can now have a team of Cybersecurity experts watching your network and computers, hunting down any threats or anomalies everyday - all day!

Critical Server \ Network Health and Up-time Monitoring

This feature allows us to proactively monitor the security status, health and uptime of our client's networks. This is our "eye in the sky" designed to provide us with real-time alerting in regards to hacker \ intrusion attempts, security log auditing and more.

Disaster Recovery Services & Critical Data Protection

Our philosophy is that all Managed IT Security Services agreement should include at least one form of backup since the majority of security breaches involve stealing and holding data for ransom. We bundle in our Secure Cloud Backup Solution which is specifically geared to protect small and medium businesses from catastrophic data loss from ransomware and malicious software.

Mobile Device Management (MDM) and Full Disk Encryption (FDE)

Protecting your equipment and data is just as important outside the office as it is inside the office. With Mobile Device Management (MDM), we can deploy policies to all your equipment ensuring they abide by the security protocols put in place. On top of that, deploying Full Disk Encryption (FDE) guarantees that any lost or stolen computers will be completely inaccessible to whoever finds them. All of the data protected from every angle.

Threat-Central Security Alerts

This feature provides our clients with weekly alerts on the latest security threats. We find out what the bad guys are scheming so your workforce can be prepared and is aware of what new tactics that are being using to gain unauthorized access to your corporate network and business critical data.
Why Choose Us?
Microsoft Certified Small Business and Azure Cloud Solutions Provider
24/7 Managed Services and Cybersecurity Bundled into Support Plans
100% Customer Satisfaction and 5 Star Google Business Review
100% US Based Nationwide Technical Support Team
ICS is an award winning Microsoft Certified Silver Partner and Small Business Specialist
As a Microsoft Certified Partner, we are experts at managing and deploying Microsoft® Windows® networks. Our network solutions help you protect your data, increase productivity, and present a more professional image to customers.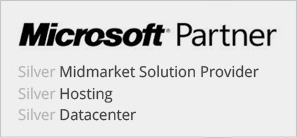 Contact Sales: 201-280-9160