IT Consulting | IT Support | Managed Services | New Jersey Computer Support Services
NJ Server Installation Services - Microsoft Server Installation Company
NJ Server Installation Services: A Certified ICS technician will perform a Complimentary technology assessment and then deliver a network server implementation plan. It will include a cost effective, and rock-solid network design that is scaleable for future growth. Your server is the heart of your network, its crucial to build it with the right hardware and software custom tailored to your office computing needs. Let us handle your technology, so you can handle your business
Schedule a Free IT Assessment
FREE On-site Technology Assessment
Top 10 Reasons to Use Windows Server 2022
Microsoft Windows Server 2022is an advanced solution for productivity and security, designed to help you keep businesses like yours up and running, so you can do more with less and connect with customers more effectively. Server 2022 provides many of the features used by large companies, all in one affordable, integrated solution.
Protect your business and prevent data loss with a more secure infrastructure which protects your business from unauthorized users and data loss with:

Built-in firewall protection and security-enhanced remote access.
Tools to manage and monitor Internet access, block spammers, and automatically remove dangerous e-mail attachments to help prevent virus attacks.
Automatic data backup and the ability to retrieve and restore previous versions

Get the "green check" of software health

Automated patch and update management tools keeps PCs and servers up to date, and a daily report is e-mailed to you (or your IT consultant) so you can identify issues before they occur. A green check indicates that your system is healthy, or the report details actions necessary for attaining "green check" status.

Keep your business up and running with a reliable network

Built on Windows Server 2022 technology, the most reliable network operating system Microsoft has ever produced, Server 2022 delivers an operating system you can depend on.

Optimize your Windows investment

Built on Windows technology, Server 2022 enables you to benefit from efficiencies and savings inherent in having an integrated network.

Reduce training with familiar Microsoft products and tools.
Run your application of choice: a powerful database in the Premium Edition supports the largest selection of business software applications.
Microsoft products are designed to work together, so applications and hardware integrate effortlessly.

Increase productivity with one central location for company data

Server 2022 provides a central location to store your company data, so employees can:

Quickly find the right information.
Share record keeping.
Communicate and collaborate on group projects.

Access business information and resources from virtually anywhere, anytime

Be productive, whether you're out of the office, at home, or on the road.

Securely access your e-mail, internal Web sites, network files, and even business applications from any PC with an Internet connection.
Easily access e-mail, schedules, and contacts from virtually anywhere, at anytime using a Microsoft Windows Mobile-based or Smartphone device.
Communicate in real time to stay current with your company and customers.

Reduce costs by sharing printers, Internet access, faxes, and more

As a complete network solution, Server 2022 enables your business to get more done with what you already have.

Share resources, like Internet access and business software.
Share equipment, including printers and fax machines.
Fax with fewer phone lines and send faxes directly from PCs.

Server 2022 is easy for your IT consultant to install and maintain, helping to lower the costs of network management.

Present a more professional image

Get the tools you need to help create a strong brand, including a customized Web site that resides on your server - no sharing of your domain name with a Web hosting company. And with your own e-mail domain hosted on your server, there's no sharing of your address with an Internet service provider. Server 2022 helps you build credibility with your customers.

Stay connected to your customers and serve them better

With Server 2022, you can stay more connected, present a professional appearance, and manage your customer relationships more effectively. Server technology can streamline customer communications, allowing you to:

Access the facts you need in real time.
Respond to customer inquires more quickly and accurately.
Stay connected while on the road with remote access capabilities.

Get a platform that is easy to grow for today and tomorrow

Server 2022 is a robust, flexible platform that can be customized to your needs. Affordable today and scalable for tomorrow, it provides a solid "technology building block" for future technology enhancements to your business. Server 2022 has the flexibility to grow with your company. As your business expands, you can add additional servers and migrate seamlessly to the full line of Windows Server System products.
Call now to speak with a technology specialist:(201) 280-9160
ICS is an award winning Microsoft Certified Silver Partner and Small Business Specialist
As a Microsoft Certified Partner, we are experts at managing and deploying Microsoft Windows networks. Our network solutions help you protect your data, increase productivity, and present a more professional image to customers.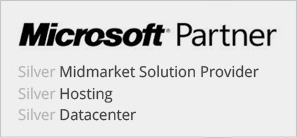 Why Choose Us?
Microsoft Certified Small Business and Azure Cloud Solutions Provider
24/7 Managed Services and Cybersecurity Bundled into Support Plans
100% Customer Satisfaction and 5 Star Google Business Review
100% US Based Nationwide Technical Support Team
Download our brochure to learn more about us

Download our company overview for more information about us

Download Brochure
We Offer:
Microsoft Silver Certified Partner
Dynamic Support | Managed IT
Cloud Computing for Business
Our NJ Services Area

Contact Sales: 201-280-9160