IT Consulting | IT Support | Managed Services | New Jersey Computer Support Services
Co-Managed IT Services - Does your in-house IT team need help?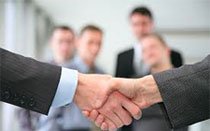 Co-Managed IT Services: ICS Co-managed IT services give mid sized corporations the ability to leverage outsourced assistance plus an in-house IT department. The result is the best of both worlds. ICS can supplement your in-house technical support team and provide a more robust IT support solution while reducing IT management costs and increasing operational efficiency to your enterprise.
View Our Managed IT Service Plans and Pricing
ICS Can Provide help with the following:
Helpdesk support | service desk
Server monitoring, maintenance and support
Data protection and disaster recovery
Technology roadmapping and IT consulting
Project management , network rollouts and cloud migrations
On-site support services
(NOC) Network operation center services
Call now to speak with a managed IT services specialist (888) 941-7770
Co-Managed IT Services Benefits:
Better network uptime and availability
Enhanced network performance
Reduced IT management costs
Improved technology solutions
Increased ROI for IT infrastructure spending
Boosted workforce productivity
Our Credentials and IT Services:
Award Winning (MSP Mentor) Managed Services Provider
Microsoft Silver Certified Partner & Small Business Specialist
Managed IT Security Services Bundled into Support Plans
Your Local and Reliable New Jersey IT Consultants
Download our brochure to learn more about us

Download our company overview for more information about us

Download Brochure
We Offer:
Microsoft Silver Certified Partner
Dynamic Support | Managed IT
Cloud Computing for Business
Our NJ Services Area