IT Consulting | IT Support | Managed Services | New Jersey Computer Support Services
ICS Core Values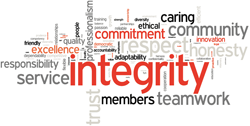 Integrated Computer Services has been built on essential core values that have been ingrained into the company throughout our 12+ years of service. We take pride in practicing what we preach and have a strict set of core values that every employee takes pride in following on a day to day basis. These values ensure that your company's information technology is in the best hands possible.

G.A.P.P.I.T.
Growth - Make a point to grow yourself, your teammates, and most of all our company. Company profits mean your profit, as our growth allows for higher salaries, bigger bonuses, and better benefits for all.
Accountability - Take responsibility for your actions both good and bad. Everyone makes mistakes, but how you handle and own up to those mistakes is extremely important and the only way to learn from them is to admit to them in the first place.
Positivity - Always enter everything you do with a positive attitude. From starting your workday to taking on a new ticket or task, a positive outlook will make a huge difference in the way clients view our company and a better outlook can mean the difference between a happy client and an angry one.
Passion - Have passion not only for what you do as a technician, but passion for the company. The more we invest ourselves into the company the further the company can go taking us all along with it.
Integrity - On a personal level you should back your work with your own reputation, and when handling a client your reputation is our reputation as a company. Clients who don't believe we stand behind our work will never be happy clients.
Team - None of us are alone, we are all part of a team. This means when something goes wrong or you come to something you don't understand someone's got your back. Likewise always offer a helping hand to anyone who needs it.
These core values should be present in everything you do on a daily basis. Even situations in your personal life can be affected for the better if you make a habit of following these values.
Why Choose Us?
Microsoft Certified Small Business and Azure Cloud Solutions Provider
24/7 Managed Services and Cybersecurity Bundled into Support Plans
100% Customer Satisfaction and 5 Star Google Business Review
100% US Based Nationwide Technical Support Team
Download our brochure to learn more about us

Download our company overview for more information about us

Download Brochure
We Offer:
Microsoft Silver Certified Partner
Dynamic Support | Managed IT
Cloud Computing for Business
Our NJ Services Area

Contact Sales: 201-280-9160