IT Consulting | IT Support | Managed Services | New Jersey Computer Support Services
NJ VMware Installation and Support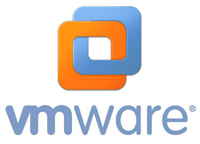 ICS can help you to bring efficiency, control and flexibility to your IT infrastructure with VMware, the world's leading datacenter virtualization provider. We start by eliminating the old "one server, one application" model and are able to run multiple virtual machines on one physical machine. ICS not only saves you money from having to employ costly IT administrators, we can also save you valuable time spent maintaining an existing non-virtualized infrastructure.
Request a Proposal for VMware Server Virtualization Services
ICS VMware Virtualization Services Include: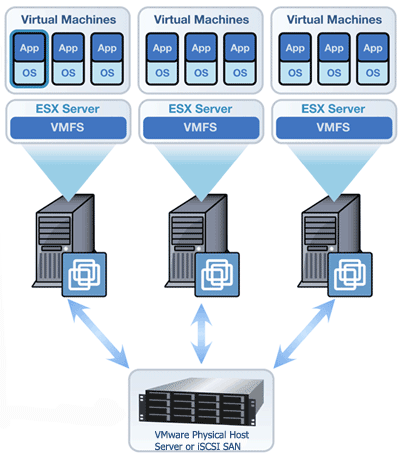 How Does Virtualization Work?
By inserting a thin layer of software directly on the computer hardware or on a host operating system, multiple operating systems are able to run concurrently on a single physical computer and share hardware resources with each other. The entire machine, including the network devices, memory, operating system and CPU is encapsulated, creating a virtual machine that is completely compatible with all standard operating systems, device drivers and applications. From a single computer, you can now run several applications and operating systems at the same time, each having access to the resources it needs when it needs them without any conflict.
Proposal Request for VMware Virtualization Installation, and Support Services
VMware vSphere
Since the VMware virtualization platform is built on a business-ready architecture, using software such as VMware vSphere transforms or "virtualizes" the hardware resources of an x86-based computer - including the network controller, hard disk, RAM and CPU - creating a fully functional virtual machine that can run its own operating system and applications independently like a "real" computer. Because each virtual machine contains its own complete system, any potential conflicts are eliminated.
Other benefits to VMware Server Virtualization:
Reduce capital costs by increasing energy efficiency and requiring less hardware while increasing your server to admin ratio.
Save time by avoiding waiting for a tech to come on-site. Ensure your enterprise applications perform with the highest availability and performance.
Schedule monthly remote service and maintenance. Build up business continuity through improved disaster recovery solutions and achieve high availability network design.

When the time comes to virtualize your systems and convert your software, all it takes is one call to ICS.. We are well-versed and educated on VMware technology. We will install, configure and provide support to your staff throughout the virtualization process, taking the worry off your personnel and making it a seamless experience.

Request a Free On-site Network Evaluation
Call now to speak with a VMware specialist: TollFree: (888) 941-7770
Our Credentials and IT Services:
Award Winning (MSP Mentor) Managed Services Provider
Microsoft Silver Certified Partner & Small Business Specialist
Managed IT Security Services Bundled into Support Plans
Your Local and Reliable New Jersey IT Consultants
Download our brochure to learn more about us

Download our company overview for more information about us

Download Brochure
We Offer:
Microsoft Silver Certified Partner
Dynamic Support | Managed IT
Cloud Computing for Business
Our NJ Services Area