IT Consulting | IT Support | Managed Services | New Jersey Computer Support Services
Small business IT Support for New Jersey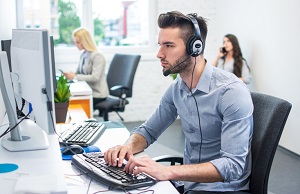 When operating a small business many overlook a crucial aspect–IT. Small businesses face many IT challenges, from data breaches and malware to simple things such as fixing technical issues. This is where small business IT support comes in to bridge the gap and help run IT systems more efficiently. These services allow your business to no longer worry about the small IT tasks, and you can focus on what's important–your business.

Learn About Our IT Assessment Process Schedule a Free IT Assessment
Why Small Business IT Support is Vital
Small businesses are the backbone of the American economy. With there being over 30 million small businesses in the US, these organizations need to have access to quality IT support to be successful, especially as technology continues to change the way small businesses operate. In the past, small businesses may have been able to get by with a few desktop computers and a printer. But now, most small businesses rely on technology for everything from accounting and invoicing to customer relationship management (CRM) and marketing. With so much riding on technology, it is important to have a small business IT support team that you can rely on.
Not only do small businesses need IT support to keep their systems up and running, but they also need it to help them compete with larger organizations. Technology has leveled the playing field for small businesses. Where once only large businesses had access to certain technologies, now small businesses can take advantage of cloud-based solutions that are affordable and easy to use. This has allowed small businesses to compete with larger organizations in ways that were not possible before. But in turn, it has opened them up to the hazards and vulnerabilities of cybercrime through things like phishing scams and ransomware attacks.
That is why small business IT support is so vital. A good IT support team will not only help you choose the right technology solutions for your business, but they will also help you implement them in a way that is secure and efficient. They will also be there to help you troubleshoot any problems that may come up and provide support when you need it most.
What small businesses need from IT support
No one small business is the same and what works for one might not work for another. But there are some general things that all small businesses need from their IT support. That is why at Integrated Computer Services, we tailor our IT support services to small businesses in New Jersey, New York, Philadelphia, and Florida. We work with you to understand your specific needs and then create a support plan that works for you.
The most important thing small businesses need is someone they can rely on. When something goes wrong–and it will, eventually–they need to be able to pick up the phone and call someone who can help them right away. That's where a good IT support provider comes in. Small businesses should have a team of experts who can help with anything and everything related to their IT systems. Here are some additional things that all small businesses need from IT support:
Proactive Maintenance: To avoid disruptions to your business, it is important to have someone monitoring your IT systems proactively. That way, potential problems can be fixed before they cause any downtime.

Help Desk Support: When something does go wrong, you need to be able to call someone for help. A good IT support provider will have a help desk where you can reach someone who can help resolve your issue as quickly as possible.

Cybersecurity: With all the cyber threats out there, it is important to have someone who can help you protect your data and keep your systems secure.
If you are a small business owner, make sure you have a small business IT support team that you can rely on. Integrated Computer Services has over 25 years of experience supporting small businesses in the United States. We understand the unique challenges that small businesses face and we are here to help you overcome them.
Why Choose Us?
Microsoft Certified Small Business and Azure Cloud Solutions Provider
24/7 Managed Services and Cybersecurity Bundled into Support Plans
100% Customer Satisfaction and 5 Star Google Business Review
100% US Based Nationwide Technical Support Team
Contact Sales: 201-280-9160