IT Consulting | IT Support | Managed Services | New Jersey Computer Support Services
ICS Earns Respected CompTIA Managed Services Trustmark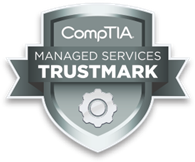 ICS, Inc. Earns Respected Technology Industry Credential
Glen Rock, New Jersey 03/17/15 'Integrated Computer Services, Inc. announced today it has received the CompTIA Managed Services Trustmark ', a respected industry credential that signifies its adherence to best practices for technology service delivery and customer interaction.
View Our Trustmark Profile on the CompTIA Website
CompTIA MSP TrustmarkTM signifies commitment to industry best practices
"Earning this credential identifies Integrated Computer Services, Inc. as a business that meets or exceeds the best business practices the IT industry has to offer," said Nancy Hammervik, senior vice president, industry relations, CompTIA. "This includes managed services agreements, standard operating procedures, systems and tools for delivering services and general business operations." The Trustmark was developed by CompTIA, the non-profit association for the information technology industry, in collaboration with industry experts and leaders, to identify businesses that have made a commitment to the highest levels of integrity and sustained quality service.
"We are excited to have CompTIA recognize our team in supporting small and medium sized businesses in an ethical manner." said Michal Cardella, CEO of Integrated Computer Services. "The CompTIA Managed Services Trustmark shows that we have proven to use the best business practices and operate with the appropriate policies and procedures in place to deliver world class IT services with the highest level of integrity"
To earn the CompTIA Managed Services Trustmark, Integrated Computer Services, Inc. was evaluated on several aspects of their business operations, including organizational structure, technology tools and systems they utilize, standard operating procedures and IT service specific activities. The company also committed to abiding by a code of conduct and provided customer references.
About CompTIA
CompTIA is the voice of the world's information technology (IT) industry. Its members are the companies at the forefront of innovation; and the professionals responsible for maximizing the benefits organizations receive from their investments in technology. CompTIA is dedicated to advancing industry growth through its educational programs, market research, networking events, professional certifications, and public policy advocacy.
Why Choose Us?
Microsoft Certified Small Business and Azure Cloud Solutions Provider
24/7 Managed Services and Cybersecurity Bundled into Support Plans
100% Customer Satisfaction and 5 Star Google Business Review
100% US Based Nationwide Technical Support Team
Download our brochure to learn more about us

Download our company overview for more information about us

Download Brochure
We Offer:
Microsoft Silver Certified Partner
Dynamic Support | Managed IT
Cloud Computing for Business
Our NJ Services Area

Contact Sales: 201-280-9160