IT Consulting | IT Support | Managed Services | New Jersey Computer Support Services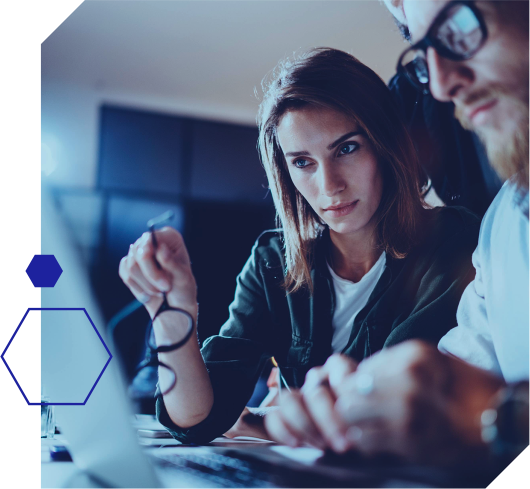 ICS is a leading NJ managed IT service provider that offers a comprehensive suite of services tailored to your business needs. We proactively monitor and manage your IT infrastructure, provide white glove IT helpdesk support to your employees, and include security awareness training and quarterly network vulnerability assessments in all support plans. Our managed IT service agreements offer a flat rate for IT maintenance contracts with on-demand technical support, which can help reduce IT management costs and increase profitability.
Our team of 20 skilled IT professionals is passionate about helping your business succeed. We offer a wide range of IT consulting services to help you with your IT strategy, planning, system design, implementation, cloud migration, cybersecurity, and disaster recovery.
World Class Managed IT Solutions
ICS Managed IT Services Includes:
Expert Level 3 Managed IT Services helpdesk support and on-site support: Real US-based IT experts who care about your success.
Managed Services 24/7/365 cyber security monitoring for your cloud, servers, network, and all endpoints: We are constantly cyber security monitoring to prevent data breaches and ransomware attacks.
Managed IT Services Virtual CIO and IT strategy guidance and road mapping: Engage our senior-level IT admin team to chart an innovative and cost-effective technology road map.
After Hours and 24/7 Support: Around-the-clock technical support, custom-tailored to your business needs.
Blistering fast response times: 30-minute or less response times when your computer systems or network is down.
Vendor management and technology liaison: We are your full information technology solution, so you don't have to spend time managing your vendors.
Spam, antivirus filtering and security patch management: Comprehensive umbrella of Managed IT Security Solutions included in your Managed IT Service agreement.
Secure Cloud Remote Backup and 24/7/365 Cyber Security Bundled: Your one-stop IT shop for all of your cloud computing and technical support needs.
Asset tracking and reporting: We cover IT completely, from warranty tracking to weekly health reporting.
Security Awareness Training: We help your employees identify phishing emails to avoid becoming a victim of a ransomware attack.
Quarterly, or Annual Network Vulnerability Assessments: Our plans include network vulnerability scanning to prevent data breaches.
Unlimited or Block Hour Plans: Managed IT support plans that include unlimited support time or hourly time-based support - no business is too big or too small for us.
Our IT Services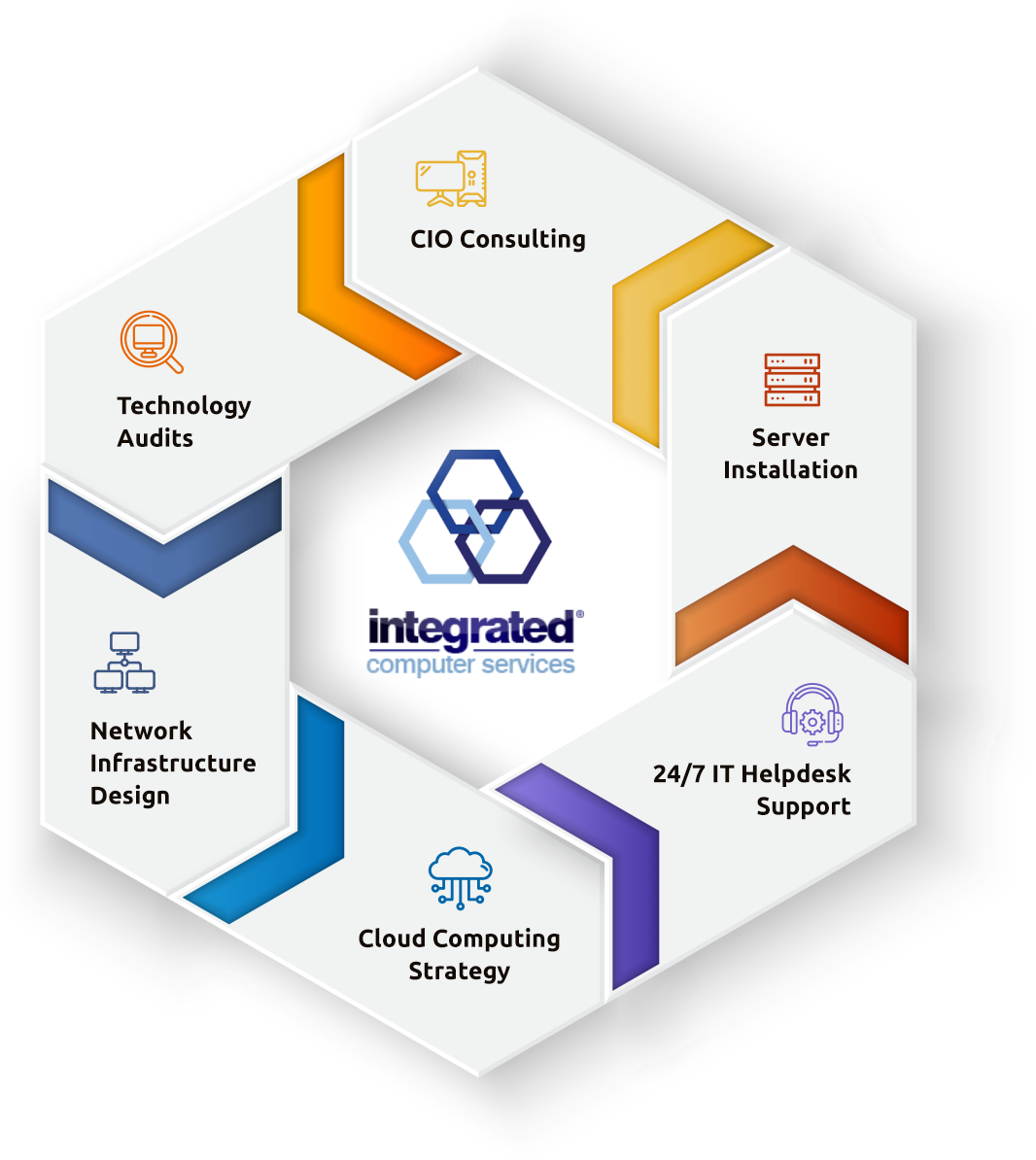 ICS handles 100% of our Windows environment, Network, Office devices and cyber security. Since we signed with ICS, they have been invaluable in helping us stay up to speed with adequate Cyber Security. They have helped with 3rd party vendors including our Cyber Insurance Carrier among others to recommend and implement the proper tools to ensure our network is secure and our customer data remains safe.

I could not be more pleased with the tech support provided by Mazzy who works with this company. He is extremely knowledgeable and handles every problem sent to him in a very timely and proficient manner. He is definitely an asset to this great company!! I would highly recommend using Integrated computer services for all your technical support needs.

My experience with Mazzy and the whole Integrated team has been nothing but positive. They go above and beyond to meet your needs. They are a great partner to have with your organization.

I want to thank the entire staff of Integrated Computer Services! They are always helpful on our "mayday mayday, computer down" moments. A special thanks to Mazzy and Jake! You guys are awesome!

The team at ICS has always been quick to respond to any issue we may have had with out IT services. They provide competent and professional support with calmness and understanding when the issue at hand is usually stressful for our small company. They provide a great peace of mind.

I build our company network from the ground up and nurtured it for 10 years, until it got to be too big to handle on my own. We had another IT vendor that just wanted to sell us stuff and make money off us, and tried repeatedly to take away my admin rights...

Quick, efficient, trust worthy, and complete describe Integrated Computer Services. They get the job done for us each and every time and always have excellent insight as to how to avoid a similar issue going forward.

I am a Paralegal at the Law Offices of Weiner & Mazzei in Passaic, New Jersey. We hired ICS over the summer months and they have done an excellent job. They are professional, efficient and provide a high level of customer service. If your company needs a good computer help desk company do not hesitate to call these guys. They are good and affordable.

Working with integrated has been the best experience with a tech business. Thank you Mike, Mazzy & Staff for having patience and everything you guys do for us everyday!

Our company has been working with ICS for 4+ years, and we constantly have had positive experiences with them. All ICS staff are wonderful! We are a fast growing company and always in need of technical support and they are always there to help, and most importantly are very patient with everyone. They respond to our requests in a timely manner and are able to fix the problem remotely...

Always the best move to call ICS. Very helpful each and every time. Quick response time and always available to get the job done. I like that they take the extra step to explain what they are doing and why they are doing it. Never reluctant to answer any questions we may have. A professional group for sure.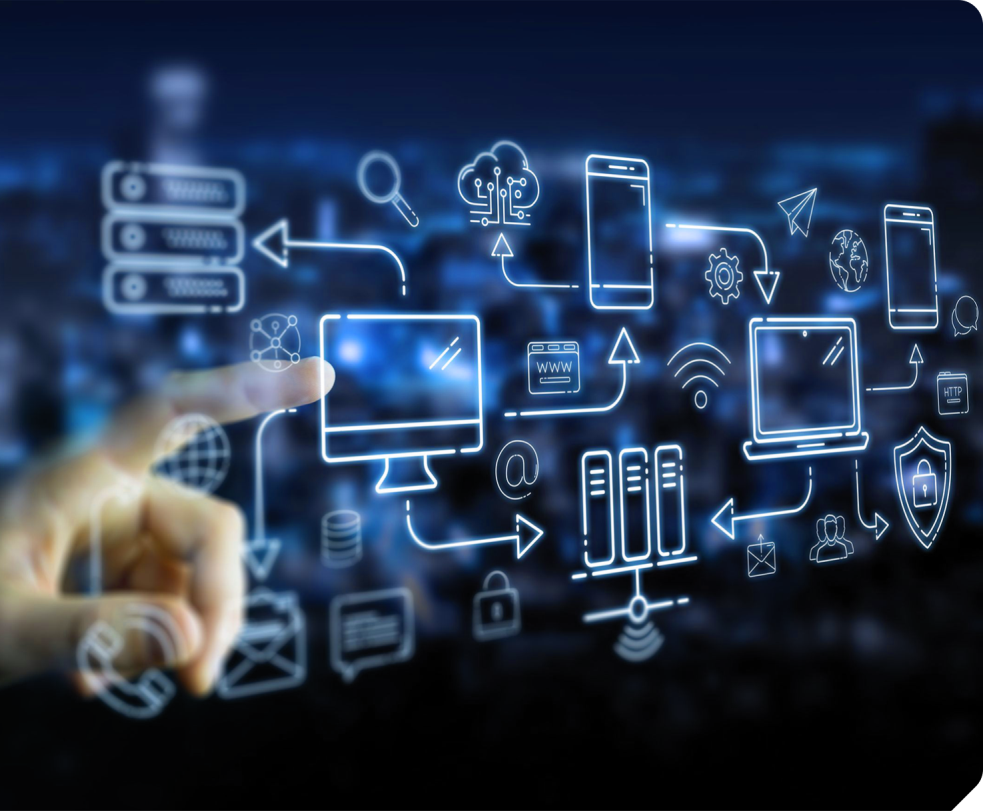 NJ's Trusted Partner in Managed IT Solutions
ICS is a locally owned and operated IT company in NJ with over 100 years of combined technical experience. We offer a comprehensive suite of managed IT services and IT consulting services to businesses of all sizes. Our team of IT professionals is dedicated to providing the expert care and attention your IT infrastructure deserves.
Ready to revolutionize your business with cutting-edge IT solutions?
Contact ICS today and discover the transformative power of our cost-effective managed services tailored for small to medium-sized businesses. Don't just manage IT; master it with ICS as your trusted partner—reach out now and Schedule A Free IT Assessment to propel your business to new heights!
Schedule A Free IT Assessment
Contact Sales: 201-280-9160