IT Consulting | IT Support | Managed Services | New Jersey Computer Support Services
Sept 16 2021
Views 351
Are Cloud Solutions Right For Your Business?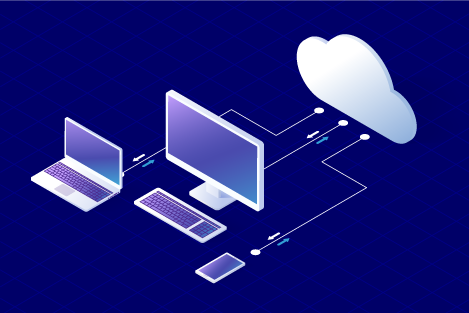 In today's rapidly changing environment, SMBs need access to the same types of technologies large companies do. Unfortunately, they typically don't have the budget to support this need.
If this sounds familiar, the good news is you can find a solution in cloud computing. Investing in a cloud solution offers many tangible benefits in a way that won't break your budget. Look at these five benefits you'll receive.
1. Reduce IT-Related Costs
Maintaining technology gets costly. One of the most significant benefits of working with an IT service provider that offers cloud computing services is you can drastically decrease hardware and maintenance costs. Your partner takes on the expense, and all you are responsible for is a monthly, pay-as-you-go fee.
When you connect with a full-service managed IT company you also don't need to maintain physical space to run servers and hardware, managed services takes care of this. As a bonus, you'll receive full IT support – they'll even configure any software updates to run automatically. No more worries about having to maintain salaried staff members to maintain the company's servers, network, hardware, and software. With the money saved, you can invest more back into pursuing business growth.
2. Gain a Competitive Advantage
One of the largest hurdles SMBs face is keeping their technology up to date. Connecting with a managed IT service provider helps level the playing field, giving your company the opportunity to compete with the big guys. With IT support services, you'll always have access to the latest hardware and software products. This means no more stresses associated with finding the money in your capital expenditure budget to support your technology needs to position the business to compete. Furthermore, without needing to deal with IT issues, you can achieve better efficiency and higher productivity, enabling staff to focus more on the business's core competencies instead of spending valuable time managing data and storage.
3. Ensure Business Continuity
All businesses today should operate with the mindset of "expect the unexpected." Unfortunately, this is often hard for SMBs that don't have robust IT budgets. Realistically, things happen. Mother Nature wreaks havoc, a fire erupts, or another disaster occurs. When it comes to business continuity, cloud computing is a total game-changer. You'll never have to worry about crashes or data loss. Your managed IT partner ensures access to data is never disrupted or lost because consistent backups are always performed.
Through cloud technology, your team also gains access to data from anywhere, at any time. Collaboration is a breeze. Whether the company operates on remote status, travels, or in the office, everyone can connect in real-time.
4. Enjoy Increased Scalability
All SMBs are launched with the hope they'll grow over time. One of the drawbacks of growth is it means more – or expanded – technology is required to operate proficiently. This can create setbacks because it's costly for SMBs to upgrade consistently. Managed IT offers complete scalability. As your company grows, the option to shift to different services or plans is always available. Ultimately, you have access to the technology you need at an affordable price.
5. Obtain Stronger Data Security
Security is a process no company, regardless of size, can afford to ignore. It's a sad reality that threat actors specifically target SMBs with the assumption they don't have strong security resources to keep them out. Unfortunately, they're often correct in this assumption. Working with a managed IT partner that provides cloud computing services means they'll keep your data and system safe and sound in a central location with a level of security designed to keep the bad guys out. Even if a device is lost or stolen, individuals with nefarious intentions can't access your data since it's not stored locally on the device – it's in the cloud.
Get a Free Managed Cloud Computing IT Assessment Today!
In a nutshell, SMBs need cloud computing. If looking to plus your company's IT capabilities, managed IT is the perfect solution. Integrated Computer Services, Inc. offers the cloud services you need, along with a variety of other IT services. To learn more, sign up for a FREE IT consulting assessment or contact us with any questions.
You may be interested in these additional articles about Small Businesses and Technology:
How to Choose the Right IT Provider for Your Business Common SMB Solutions for IT with Managed Services
If you have any questions, please feel free to contact us at: (201) 280-9160
Why Choose Us?
Microsoft Certified Small Business and Azure Cloud Solutions Provider
24/7 Managed Services and Cybersecurity Bundled into Support Plans
100% Customer Satisfaction and 5 Star Google Business Review
100% US Based Nationwide Technical Support Team
Download our brochure to learn more about us

Download our company overview for more information about us

Download Brochure
We Offer:
Microsoft Silver Certified Partner
Dynamic Support | Managed IT
Cloud Computing for Business
Our NJ Services Area

Contact Sales: 201-280-9160