IT Consulting | IT Support | Managed Services | New Jersey Computer Support Services
Jul 2 2021
Views 285
Crucial Endpoint-to-Cloud Security Requirements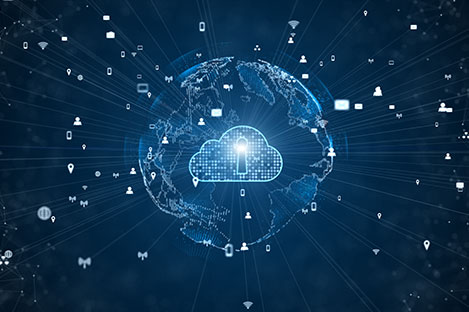 Most enterprise applications would be located securely in data centers, where company employees would connect to internal networks with data being accessed by a network perimeter, keeping assets safe. With Cloud network security technology and the pandemic affecting in-office work, the Cloud is being leverages more than ever.
Working Remote has allowed employees to access the cloud, and it's data from anywhere. This changes the old dynamic of employees connecting to internal networks. Now, remote workers and their devices, data, and applications are the center focal point. This takes applications and data remotely, making it crucial for IT security teams to protect data, and ensure compliance via privacy regulations.
Data Security and Access Risk
As employees can now access data in the cloud from anywhere using unmanaged local Wi-Fi networks, this has ultimately decreased a businesses' ability to control and reduce risk if not additional steps are taken. For many enterprise companies, they leverage a variety of standalone tools to resolve specific issues. One step that they might take is using a virtual private network (VPN). The VPN is accessed when employees connect to cloud data and applications. The main problem with VPNs is that they might assume that every device and access-user is trustworthy, leaving your infrastructure and connections vulnerable. VPNs do not offer endpoint-to-cloud security since you have reduced visibility into users' endpoints or other cloud applications, and therefore does not qualify as 'zero trust' network security.
Reduce Business Risk with Endpoint-To-Cloud Security
Enterprise corporations can minimize risk by retaining the same visibility and access controls as they did with a perimeter. To ensure this, it is necessary to have a cloud-based solution that provides data and privacy protections from endpoints to the cloud.
To enhance insights into your infrastructure, your infrastructure should be integrated into a singular platform which can detect cyber-threats, perform incident investigations, and manage policies. This enables your company to have insights from endpoints to the cloud infrastructures.
To achieve unmatched visibility an enterprise corporation must have visibility into the associated risk-level of users, application, data, and the devices used by users. Having more visibility into your infrastructure also helps to ensure compliance with privacy regulations.
Zero Trust access allows for productivity improvements by giving your corporation the in-depth understanding to adapt to continuous changes of users, applications, data, and devices used by users.
Achieve a Perimeter-Like Security with Cloud Solutions
To ensure endpoint-to-cloud insights, access control, and visibility, enterprise organizations need a frame to address the challenges for unifying the networks architecture from multiple security solutions. These can come in form of Zero Trust and SASE (Secure Access Service Edge) framework solutions. The combination of these solutions is the most beneficial, as SASE products can be defined quite differently depending on the vendor. For example, some do not offer continual risk assessments, or endpoint securities, whereas others might not analyze any user behavior and lack the appropriate ability to detect malware or identify and compliance issues. Additionally, some SASE products and vendors do not include data encryption for data, files, or emails which limits data-sharing.
For modern enterprise corporations and SMBs, SASE and Zero Trust solutions should be used as foundational infrastructure security measures to protect data from endpoints to the cloud while providing visibility and insights into users, networks, access, applications, and devices. To learn more about endpoint-to-cloud security contact ICSSNJ today!
If you have any questions, please feel free to contact us at: (201) 280-9160
Why Choose Us?
Microsoft Certified Small Business and Azure Cloud Solutions Provider
24/7 Managed Services and Cybersecurity Bundled into Support Plans
100% Customer Satisfaction and 5 Star Google Business Review
100% US Based Nationwide Technical Support Team
Download our brochure to learn more about us

Download our company overview for more information about us

Download Brochure
We Offer:
Microsoft Silver Certified Partner
Dynamic Support | Managed IT
Cloud Computing for Business
Our NJ Services Area