IT Consulting | IT Support | Managed Services | New Jersey Computer Support Services
Mar 31 2021
Views 125
Cyber-Attacks & Healthcare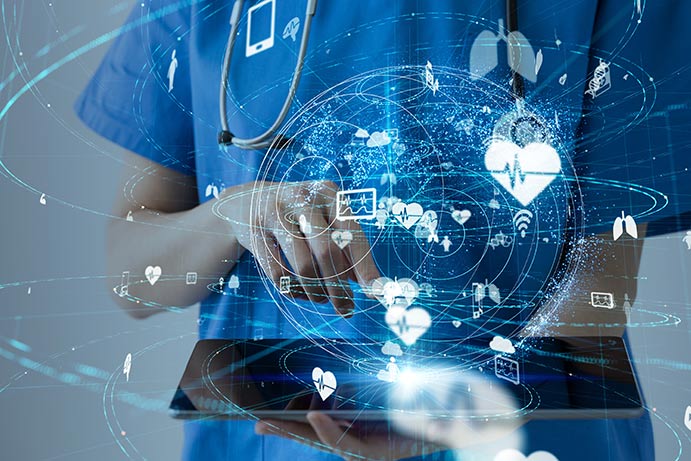 Cybersecurity and network security have proven to be critical during the pandemic of 2020. Healthcare industry sectors and providers have been pummeled by cyberattacks and data breaches. These cyberattacks have been documented for 2020 and have already, though September was seemingly the worst month for companies within the healthcare sectors.
Healthcare Data Breaches
In recent years, the largest healthcare data breaches surround those caused by third parties, such as AMCA. Blackbaud cloud hosting was the latest target during the pandemic. The attempt to breach Blackbaud had taken 3-months starting in February. On May 14th, 2020, Blackbaud's hosting environment became infected with malware. The hackers were able to steal a data subset just before deploying the payload. The breach has an estimated cost of more than $7 million in total damages, with millions of patient's data being at-risk.
Luxottica of America had also become a victim of cybersecurity breaches this year. With the use of a threat actor, the hacker gained access to a web-based appointment scheduling app. This scheduling application was used by its eyecare providers, making appointments for patients. This hacker was able to access patient data, notes related to treatment, insurance policy numbers, prescriptions, and more personal information.
Cyber Attacks Deemed Urgent Threat to Global Health
During the 2020 pandemic these cyberattacks have certainly escaladed against those in the healthcare industry, and this has provoked several Government agencies to issue statements regarding this specifically.
A quote from Menaka Muthuppalaniappan and Kerrie Stevenson of Oxford University Press on PubMed.Gov reads:
Since the outbreak began, various healthcare providers and academic institutions across the world have been targeted in a variety of complex and coordinatized cyber-attacks. International and national regulatory bodies have stressed the urgent need for healthcare providers and universities to protect themselves against cyber-attacks during COVID-19, recognizing that a growing number of cyber-criminals are seeking to capitalize on the vulnerabilities of the healthcare sector during this period. This includes a desire to steal intellectual property such as data relating to COVID-19 vaccine development, modelling and experimental therapeutics. It is therefore essential that healthcare providers and universities ensure they are informed, protected and prepared to respond to any cyber-threat.Menaka Muthuppalaniappan and Kerrie Stevenson of Oxford University Press
Cyber Security for Healthcare Companies & Sectors
It has become imperative for healthcare provides, universities and agencies to protect their online assets. This can be done with ICS, as we are network security professionals, and will devise a series of cyber security penetration tests to find weaknesses in your network infrastructure. While these are great defenses against skilled hackers, if your healthcare corporation becomes a victim of a ransomware attack, doing a complete network backup can ensure patients data is protected. Doing a 3-2-1 backup strategy for all critical data could allow the facility to operate during attacks and recover quickly without paying a ransom. Call ICS today for more information on protecting your small business.
If you have any questions, please feel free to contact us at: (201) 280-9160
Why Choose Us?
Microsoft Certified Small Business and Azure Cloud Solutions Provider
24/7 Managed Services and Cybersecurity Bundled into Support Plans
100% Customer Satisfaction and 5 Star Google Business Review
100% US Based Nationwide Technical Support Team
Download our brochure to learn more about us

Download our company overview for more information about us

Download Brochure
We Offer:
Microsoft Silver Certified Partner
Dynamic Support | Managed IT
Cloud Computing for Business
Our NJ Services Area

Contact Sales: 201-280-9160