IT Consulting | IT Support | Managed Services | New Jersey Computer Support Services
Aug 29 2022
Views 288
Finance IT Consulting Services In NJ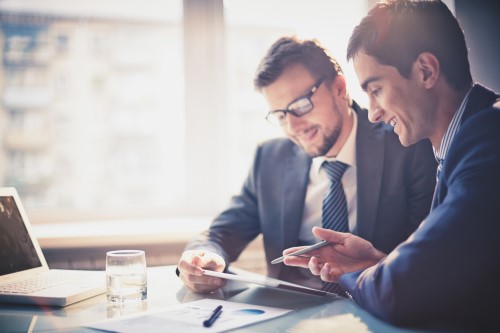 New technology is rapidly changing the financial services industry. Is your organization keeping up? Finance IT consulting in NJ can help you stay competitive. You can benefit from a range of support and consulting services.
Find out more about the best IT for finance companies and how better IT support can help your business.
Network Support
Network support services are an important part of IT for finance companies. Network support focuses on maintaining your existing business network infrastructure. Network infrastructure includes hardware, software, systems, and devices.
Your network has many components such as:
Desktop computers and laptops
Servers
Switches, hubs, modems, and routers
Cables
Firewalls
Operating systems
Networking protocols
A problem with any of these components can lead to costly downtime. Network support services resolve these issues when they come up. The best service providers will implement solutions to prevent the same problems from happening again. Network support as part of a managed IT solution can prevent infrastructure problems. Regular maintenance and updates help keep your system in top condition. You get better system performance and longer life from your IT assets.
Financial Software Support
Your financial software is critical to your business operations. IT support for finance companies ensures that these important systems run efficiently. Your software needs may include accounting and finance solutions from providers like Intuit, Sage, Xero, Oracle, SAP, or Microsoft. Finance IT services should have experience supporting these systems.
Support for financial software ensures you get the right software upgrades. This keeps your systems more secure. It improves software performance. Software support services will resolve problems involving your software. Remote support can connect securely to your network to troubleshoot and fix the issues.
Business Systems Optimization
Finance IT services include consulting as well as support. One area where financial IT consulting can benefit your organization is optimizing your business systems. Many companies recognize the power of technology to transform their businesses. Creating and implementing a digital transformation strategy can be complicated, though. Optimizing your business systems starts with an assessment of your current processes and infrastructure (see our IT infrastructure checklist).
Finance IT consultants will then work with you to develop a plan to reach your goals. The plan may include technologies like:
Business process automation
Artificial intelligence and machine learning
Business intelligence services
Web portal technologies
Mobile solutions
You get better data and analytics. You can make better decisions and improve the services you provide your customers. You improve efficiency and reduce costs.
Business Continuity and Disaster Recovery
Finance IT consulting can help with your business continuity and disaster recovery plans. These plans are critical in the financial industry. You need an effective disaster recovery plan to comply with industry regulations. Your plan must meet federal requirements for privacy and fraud protection.
Business Continuity vs Disaster Recovery
Your business continuity strategy is closely related to your disaster recovery plan. Business continuity focuses on making sure your critical business functions keep working through a disruption. Disaster recovery focuses on restoring your business processes as soon as possible after a disruption.
Advantages of Cloud Computing for Continuity
The cloud is an important part of your business continuity and disaster response planning. Cloud-based services are hosted in a remote location. This lets you continue operations when a problem affects your business location. You can access your email, files, desktops, servers, and data from anywhere.
Importance of Data Backup
Backing up your business data is a key part of continuity and recovery planning. Financial IT consulting can help you design a backup plan that complies with regulations. You need real-time replication to an on-site backup and recovery device. This helps protect your data and prevent downtime.
The cloud offers an additional way to backup your data. Cloud backup stores your data securely and automatically offsite. After a disaster, you can access your data from anywhere.
Managed Backup and Recovery
You can take advantage of managed backup and recovery services. The service provider owns and maintains the infrastructure. This is especially beneficial if you have a lean IT department. Managed backup and recovery can lower your costs. You can be sure of regulatory compliance. You have a team of recovery experts managing your strategy.
Managed IT Security
Managed IT security is another area where finance IT specialists can add significant value to your operations. IT security is critical for finance companies. You need effective protection against cyber attacks for your business and your customers. Most organizations don't have the time and resources to maintain security procedures continuously and effectively. A managed IT security company can provide this service for you.
Better cyber security starts with an assessment of your IT infrastructure and systems. The IT security provider will analyze your security practices. You can then work together to address any cyber security issues.
Managed IT security can include several different types of services such as:
Ensuring compliance with cyber security standards like NIST
Network and data security
Email security and spam removal
Malware removal
Security patch management
Firewall setup and support
Managed threat detection
Two-factor authentication
Cyber security awareness training
Financial IT consulting for security can help you develop a multilayered defense for your company. You can also implement proactive measures like security training for employees.
Using Finance IT Consulting Services in NJ
IT support for finance companies is critically important. Your organization can benefit from a range of support and consulting services. The right IT services partner can help keep your infrastructure secure and up-to-date. They can support your digital transition. An IT services provider can help you plan for business continuity and keep your data backed up. They can help protect your data against cyber attacks.
Integrated Computer Services (ICS) is your trusted source for finance IT consulting services in NJ. We specialize in IT consulting and network support for small to mid-sized businesses. We have more than 10 years of experience providing IT services to some of the top financial and CPA firms in New Jersey.
Contact us today for a free consultation. Let's find the IT solutions that will take your business to the next level.
If you have any questions, please feel free to contact us at: (201) 280-9160
Our Credentials and IT Services:
Award Winning (MSP Mentor) Managed Services Provider
Microsoft Silver Certified Partner & Small Business Specialist
Managed IT Security Services Bundled into Support Plans
Your Local and Reliable New Jersey IT Consultants
Download our brochure to learn more about us

Download our company overview for more information about us

Download Brochure
We Offer:
Microsoft Silver Certified Partner
Dynamic Support | Managed IT
Cloud Computing for Business
Our NJ Services Area