IT Consulting | IT Support | Managed Services | New Jersey Computer Support Services
Jul 14 2022
Views 386
IT Support in Jersey City: An Overview Of Our Services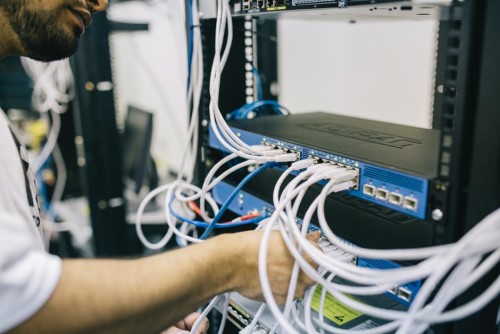 There are many businesses in Jersey City, and each of these businesses need a solid IT support service to keep their business running smoothly and efficiently. Thankfully, at Integrated Computer Services, we can do just that. Are you looking for IT support in Jersey City? Keep reading to learn more!
Common IT Issues
No doubt, technology plays a huge role in every business. Without it, things would grind to a halt. With it, however, businesses can do things they never imagined before. Unfortunately, this also means that IT support is becoming increasingly necessary.
The more complicated a business IT setup is, the more essential IT support becomes. Here are some of the common issues that businesses experience:
Password issues
Printer problems
Slow internet
And more
As you can see, technology can be beneficial, but it is also very complex and challenging to navigate.
Managed IT Services
If you own a business, you know that you need to stay on top of all IT issues that may arise. This can be a time-consuming and costly venture. That is why many companies decide to outsource their IT departments. Managed IT services will take care of all that and more.
At Integrated Computer Services, we will offer:
Helpdesk and onsite support
24/7/365 monitoring
IT strategy guidance and road mapping
Vendor management
Spam and antivirus filtering
And much more
IT Support
We cover all of the above and more here at Integrated Computer Services. We are not only the #1 IT support in Jersey City, but we are also the #1 IT service in New Jersey. That is because we offer a wide variety of services to fit each company's unique needs. We will offer you various solutions when you choose our IT Support services. These solutions will help your business increase efficiency and productivity, and improve your entire network.
IT Consulting
At Integrated Computer Services, we won't leave you in the dark about the solutions we offer, your options in the tech world, and how your company can benefit from the latest innovations we can offer. With our IT Consulting services, we will cover IT compliance, planning, and setup. Additionally, we also offer disaster recovery services, multifactor authentication, and much more.
Check out our full IT Consulting services here.
Cloud Services
The future is in the cloud. You won't have to worry about your hardware breaking down with our cloud computing services. You can also allow your team to work from anywhere. With the latest pandemic, many companies moved to remote options. Many companies are considering moving remote permanently.
Your company can scale according to your needs with cloud computing services.
Managed IT Securities
With our Managed IT Security services, you won't have to worry about a data breach when we take the reigns. We will take a proactive approach to maintain your cybersecurity. You won't have to worry about the security of your servers, updates, and more with us. We will take care of everything behind the scenes.
Industries We Service
Due to the wide range of industries we work with, we are capable of servicing your IT needs and much more. No matter what industry you work within, we can care for all of your IT needs. We take pride in the fact that we have been serving customers in the following industries for quite some time:
Please note that if you don't see your industry listed below, please contact us for a consultation.
Manufacturing
Our manufacturing clients range from large warehouses to small shops. We will help you streamline your manufacturing process and provide you with the latest in technology. Our IT support services will increase your efficiency, productivity, and work quality.
Legal
If your business is in the legal field, you know how important it is to keep sensitive information secure and updated. Legal firms need to keep their clients' information confidential. We will help you protect your business data and files. We have worked with law firms for years, and we have the necessary skills to maintain your IT system.
Medical
Our clients from the medical field have rave reviews of our services. We are the preferred IT support provider for the medical industry. Security is a top priority for medical businesses. We will work diligently to protect your network from hacking attempts and other cyber threats.
Nonprofit
Nonprofits are extremely busy, and they have limited resources. Our services are a must-have if you are in the nonprofit field. We will help you protect your data and save time. For instance, we can take care of all of the server maintenance, backups, and more.
Construction
If you are in the construction industry, then you have a whole host of challenges ahead of you. First, you will have to deal with a rapidly changing environment. Security is also a high priority. We will work with you to ensure that your data is secure and updated. Our managed IT security services are the right choice for your company.
Real Estate
Our clients in the real estate industry have given us high praises for our work. We can help you update and maintain your IT systems. We will also help secure your network and keep your data protected.
HVAC
If you own an HVAC company, you will need help keeping your information up to date. We can handle all of your IT needs. We will help you protect your business data and files. If you are looking for top IT support, then you are in the right place. All of our services are customized to fit your business needs.
Our clients receive peace of mind knowing that our IT professionals will care for their needs.
Insurance
The insurance sector needs to store a lot of data. If your company even loses one of these data entries, your entire company might be in jeopardy. We can help you protect your files and keep them up to date. We will also take care of your backups. This makes your life a lot easier.
If you are having trouble with your current IT service provider, then give us a call. We will work hard to exceed your expectations.
IT Support in Jersey City
If you are looking for IT support in Jersey City, you've come to the right place. As you can see, we offer a wide variety of different services to suit the needs of our clients.
Do you wish to speak with one of our agents? Contact us today for a free consultation!
If you have any questions, please feel free to contact us at: (201) 280-9160
Our Credentials and IT Services:
Award Winning (MSP Mentor) Managed Services Provider
Microsoft Silver Certified Partner & Small Business Specialist
Managed IT Security Services Bundled into Support Plans
Your Local and Reliable New Jersey IT Consultants
Download our brochure to learn more about us

Download our company overview for more information about us

Download Brochure
We Offer:
Microsoft Silver Certified Partner
Dynamic Support | Managed IT
Cloud Computing for Business
Our NJ Services Area