IT Consulting | IT Support | Managed Services | New Jersey Computer Support Services
NOV 18 2019
Views 16597
4 Reasons You Should Get an IT Assessment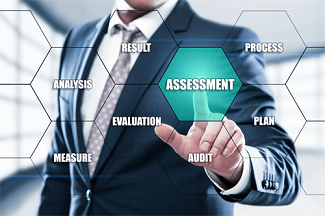 4 Reasons You Should Get an IT Assessment

Right now, as you're reading these words, do you know the state of your company's network?  How much capacity are you using?  How smoothly are things running overall?  Are there any bottlenecks that are causing hair-pulling frustrations for your employees? 

You may have a broad sense of the state of your network, but if you're like most people, you don't really have an in-depth understanding of how it's performing or how much spare capacity you've got to work with before you'll need to expand it further. 

Unfortunately, that means that to one degree or another, you're flying blind, which is always risky.  The good news is that a periodic network assessment can give you a much clearer picture of how your network is doing and highlight any problems or potential problems, which will put your business on solid ground in terms of dealing with whatever looming challenges lie ahead for you.  Here are four instances where an assessment of your infrastructure can be of immense value:

You're Experiencing Performance Issues
If the core systems your employees rely on to get work done are sluggish and not responding as quickly as they once did, it points to one or more bottlenecks in your network.  By doing a deep dive into its inner workings, you can identify and correct these types of issues, making your network and all the applications running on it more responsive.  In business, speed is life, and this will undoubtedly improve the productivity of everyone in your employ.

A Cost Saving Review
Do you need to invest in more hardware, or can you simply make better use of the infrastructure you've got?  Hardware is expensive, and if you've reached the point where you feel as though you need to spend money expanding your network, it's well worth having an assessment performed as it may reduce, or even eliminate the need to invest in new equipment, saving you money.

A Major New Rollout Is In Your Immediate Future
Are you planning to roll out a new application to be used across your organization?  Is your network, as currently constituted up to the task, or will the introduction of the new program bring things to a grinding halt?  If you're not sure, a network assessment can answer the question, allowing you to either make better and more efficient use of your existing resources or expand your infrastructure sufficiently to properly support the new application.  That saves time, money and prevents headaches down the road.  All good things.

You're Facing An Unknown Or Uncertain Future
In troubled or uncertain times, avoiding spending money you don't have to spend is critical.  After all, you may need a cushion to ride out a looming economic storm.  On the other hand, you also need to forge ahead with your plans for the future.  Balancing those two priorities can make you feel as though you're teetering right on the edge.

A periodic network assessment can help though, for all the reasons mentioned above.  Any time you're wading into uncertain waters, it's always a safe choice to make best and fullest use of your existing infrastructure before committing to any sort of expansion.
There are many other reasons and advantages to having a periodic network assessment performed, but this gives you a good idea of the value it can add to your organization.  It is an exercise well worth undertaking. If you have any questions or would like to setup a FREE IT Assessment, please feel free to contact us.
If you have any questions, please feel free to contact us at: (201) 280-9160
Why Choose Us?
Microsoft Certified Small Business and Azure Cloud Solutions Provider
24/7 Managed Services and Cybersecurity Bundled into Support Plans
100% Customer Satisfaction and 5 Star Google Business Review
100% US Based Nationwide Technical Support Team
Download our brochure to learn more about us

Download our company overview for more information about us

Download Brochure
We Offer:
Microsoft Silver Certified Partner
Dynamic Support | Managed IT
Cloud Computing for Business
Our NJ Services Area

Contact Sales: 201-280-9160