IT Consulting | IT Support | Managed Services | New Jersey Computer Support Services
SEPTEMBER 10 2019
Views 1577
Three Ways Remote Support Saves Your Business Money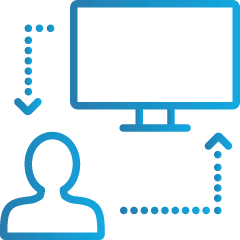 Three Ways Remote Support Saves Your Business Money
If you're relying on in-person visits by IT staff or specialists, you're certainly paying too much for IT service when there's an issue.  If you're looking for a quick and easy way to add to your bottom line, here are three ways that remote support service can help you do that.

It's Faster and More Efficient
Although you may believe face to face interactions are faster, the simple truth is that it takes time to get the appropriate expertise on-site when a problem arises unless you have inhouse technicians and can afford to staff to cover every problem which might arise.  The farther your experts have to travel and the possibility of waiting for an opening in the schedule, the longer it's going to take to solve the problem, and every minute it remains unresolved is costing you money.
Although it's not possible to solve every problem remotely, a hefty percentage of technology issues can be resolved with remote desktop support or over the phone guiding an employee through the steps necessary to resolve an issue.  Anywhere that's a possibility, the issue is virtually guaranteed to be resolved much more quickly.

It's More Cost-Effective
In addition to the time you'll save, there's the matter of direct cost to you.  If, as we mentioned above, you're staffing an inhouse IT tech just in case a specific problem arises, you're paying a hefty premium for that.  If you're outsourcing the repairs and waiting for a tech to arrive on-site, you're not only paying their hourly rate, but you're also going to be billed for their travel expenses, which may add significantly to your bill, depending on how far they have to travel.
Contrast that with paying a flat rate or hourly fee for remote support services with the potential for a much more immediate fix and the potential for savings comes into stark focus.

It Allows You to Make Better Use of Your Resources
The simple truth is that there are only so many dollars to go around.  The more money you're spending on support, the less money you have available for critical strategic initiatives that will help take your business to the next level and enhance your profits.

By taking the more cost-effective approach where support is concerned and taking advantage of remote support any time it's a viable solution, you're freeing up more of your resources to apply to the things that matter most to your business.
The bottom line is that if you're not currently using remote support services, your business is almost certainly not as profitable as it could be.  We can help with that.  If you're interested in saving your staff time and saving your company money, give us a call today and let's talk about how we can make your life easier, and make your company more profitable.
If you have any questions, please feel free to contact us at: (201) 280-9160
Why Choose Us?
Microsoft Certified Small Business and Azure Cloud Solutions Provider
24/7 Managed Services and Cybersecurity Bundled into Support Plans
100% Customer Satisfaction and 5 Star Google Business Review
100% US Based Nationwide Technical Support Team
Download our brochure to learn more about us

Download our company overview for more information about us

Download Brochure
We Offer:
Microsoft Silver Certified Partner
Dynamic Support | Managed IT
Cloud Computing for Business
Our NJ Services Area

Contact Sales: 201-280-9160