IT Consulting | IT Support | Managed Services | New Jersey Computer Support Services
Mar 09 2023
Views 180
The Different Types of IT Infrastructure Services Explained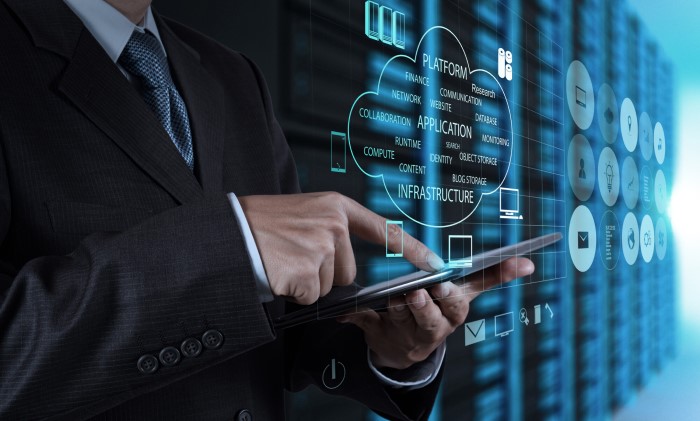 Did you know that 85% of businesses rely on their technology to reach their goals? A healthy IT infrastructure can make all the difference in your business's success.
When it comes to your business's IT infrastructure, there are several options available to you. You can manage everything in-house, or you can outsource it to a managed service provider. You can also choose to use cloud services or a combination of these options.
In this guide, we will explain the different types of IT infrastructure services and help you decide which is best for your business.
What Is IT Infrastructure?
IT infrastructure is the hardware and software that a business uses to support its operations. This can include:
Servers
Networking equipment
Desktop computers
Software applications
In many cases, IT infrastructure is also responsible for
Storing
Processing
Managing data
By definition, IT infrastructure is the foundation upon which an organization's information technology system is built. It includes both the physical (hardware) and logical (software) components that are necessary for the operation of an information system. The term is often used interchangeably with "back-end systems."
IT Managed Services: Different Types of IT Infrastructure Services
The most common type of IT infrastructure service is managed services. In this approach, a company contracts out its IT needs to an external provider. These types of providers can provide everything from network monitoring and maintenance to cloud services and backup solutions.
Let's take a look at some of those services.
Cloud Services
Cloud services are one type of IT-managed service. Cloud services allow businesses to store data and applications off-site, on servers that are owned and operated by a third-party provider. This type of service can be beneficial for businesses that do not have the resources to maintain their on-premises infrastructure. It can also be a cost-effective way to scale IT capacity, as businesses only pay for the services they use.
Data Center Services
Companies that provide IT-managed services offer a variety of infrastructure services. One type of service is data center services.
Data center services that make up a data center, including
Hardware
Software
Networks
This could include things like
Routers
Switches
Firewalls
Storage systems
Servers
Data center services also include the management and maintenance of these systems. This can include tasks like:
Patching and updating software
Monitoring system performance
Resolving technical issues
By outsourcing data center services to a managed service provider, businesses can free up their resources to focus on other priorities. Managed service providers also have the expertise and resources to provide more reliable and efficient data center services. As a result, companies that use managed data center services can enjoy increased productivity and reduced costs.
Network Services
A well-functioning IT infrastructure is essential for any business. To ensure that your IT infrastructure is running smoothly, you may want to consider using IT-managed services.
Network services are one type of managed service that can be extremely beneficial for businesses. A managed service provider can help you design and implement a robust and secure network that meets your specific business needs. In addition, a managed service provider can also provide ongoing support and maintenance to keep your network running smoothly. By using IT-managed services, you can focus on running your business, while leaving the management of your IT infrastructure to the experts.
IT Security Services
One of the most important services is security. With the ever-increasing threat landscape, it is vital to have a team of experts who can help secure your data and systems.
Security services can include things like:
Intrusion detection and prevention
Firewalls
Data encryption
And much more
By partnering with a managed service provider, you can ensure that your data and systems are well-protected against the latest threats.
Storage Services
Storage services are one type of managed IT service that can be extremely beneficial for businesses, especially those that have a large amount of data to manage.
Storage services can help businesses to optimize their data storage usage, reducing costs and increasing efficiency. In addition, storage services can provide businesses with the ability to scale their data storage capacity as needed, ensuring that they always have enough space to meet their needs.
By working with a reputable storage service provider, businesses can enjoy peace of mind knowing that their data is being properly managed and protected.
Choosing the Right Managed Service Provider: What to Know
If your business is like most, managed services make up a large portion of your IT budget. Managed services are a great way to offload the day-to-day maintenance and support of your IT infrastructure to a reliable and experienced provider. But with so many managed service providers (MSPs) to choose from, how do you know which one is right for your business?
Here are a few factors to consider when choosing an MSP:
Size and Scope of Services
Not all MSPs are created equal. Some MSPs focus on small businesses, while others have the resources to support enterprise-level organizations. Make sure you choose an MSP that can scale its services to meet the needs of your business.
Reputation and Reviews
When entrusting your IT infrastructure to an MSP, you want to be sure you're working with a reputable and trustworthy company. Talk to other businesses in your industry to see who they use for managed services, and read online reviews to get a sense of what others think of the MSPs you're considering.
Pricing Structure
One of the biggest advantages of working with an MSP is predictable monthly costs. However, not all MSPs price their services in the same way. Some charge a flat monthly fee, while others charge by the hour or project. Be sure to understand how the MSP you're considering prices its services so you can budget accordingly.
Service Level Agreement
When things go wrong with your IT infrastructure, you need to know that your MSP will be there to help resolve the issue quickly and efficiently. Be sure to review the service level agreement (SLA) offered by any MSP you're considering before making a decision.
Security Protocols
In today's world, data security is more important than ever before. When choosing an MSP, be sure to ask about their security protocols and procedures to ensure your data will be safe in their hands.
IT Infrastructure Services: Get Started Today
By now, it should be clear that different types of IT infrastructure services can be a great asset for businesses of all sizes. Whether you need storage, security, or managed service solutions, an experienced MSP can help you get your systems running smoothly and efficiently.
Get started today with the right managed service provider for your business! Schedule a free assessment for your business today!
If you have any questions, please feel free to contact us at: (888) 941-7770
Our Credentials and IT Services:
Award Winning (MSP Mentor) Managed Services Provider
Microsoft Silver Certified Partner & Small Business Specialist
Managed IT Security Services Bundled into Support Plans
Your Local and Reliable New Jersey IT Consultants
Download our brochure to learn more about us

Download our company overview for more information about us

Download Brochure
We Offer:
Microsoft Silver Certified Partner
Dynamic Support | Managed IT
Cloud Computing for Business
Our NJ Services Area