IT Consulting | IT Support | Managed Services | New Jersey Computer Support Services
Managed Data Protection Solutions
As a leading managed IT services provider we are tasked at keeping our clients IT systems free and clear of downtime and data loss. With over 15 years of real world experience in providing structured data protection solutions, our services are custom tailored to ensure that all business critical data is protected from ransomware, data theft, natural disasters, hardware failures, human error, software corruption and more. There are many different scenarios where data loss can occur, that is why we provide comprehensive data protection solutions that mitigate risk from a broad spectrum of scenarios.

Why Choose Us?
Microsoft Certified Small Business and Azure Cloud Solutions Provider
24/7 Managed Services and Cybersecurity Bundled into Support Plans
100% Customer Satisfaction and 5 Star Google Business Review
100% US Based Nationwide Technical Support Team
ICS is an award winning Microsoft Certified Silver Partner and Small Business Specialist
As a Microsoft Certified Partner, we are experts at managing and deploying Microsoft® Windows® networks. Our network solutions help you protect your data, increase productivity, and present a more professional image to customers.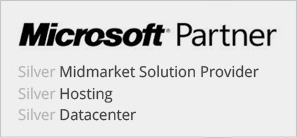 VEEAM Backup and Replication
ICS is a Veeam partner. Dedicated in providing the best backup solution for your most critical infrastructure. With 10 years of experience in the virtualized backup arena Veeam is a top tier solution for backup of your virtual machines. Now offering windows agents for physical servers they have become a complete solution for your entire IT infrastructure and ICS has extensive experience in managing and supporting your best defense against VM corruption, failed patches and updates, and ransomware.
ICS Secure Cloud Remote Data Backup
With the biggest threat to your data currently being ransomware, it is extremely important to have your critical business data backed up to an alternate location. With ICS' offsite backup we make it easy to protect your data from even the most egregious cyber-attacks and provides custom retention times to make sure your protected even when you don't know your files have been infected for days. .
StorageCraft Shadow Protect
StorageCraft has evolved extensively over time. Starting out as just a bare metal backup solution they have expanded into a comprehensive backup and disaster recovery package. With unique features such as VM boot testing and cloud VM storage and recovery, they have made their mark in the backup industry. ICS can help plan, deploy, and support the most comprehensive backup solutions StorageCraft has available for your protection.
On-site BDR Solutions
We provide complete custom Backup & Disaster Recovery in a wide range of solutions and sizes. Customized to fit the needs of your business, we can protect your physical and virtual environment to minimize downtime in the event of catastrophic failure. With backup units that can run your entire infrastructure, we can get you back up and running quickly in even the most disastrous situations.
Offsite Replication Solutions
Have multiple locations or datacenter space you'd like a redundant copy of your critical servers stored for peace of mind? ICS can help! With enterprise solutions we can make sure your VM's are replicated over your WAN connection safely and securely to the location of your choice. In the event of disaster at your primary location, we can have you back up and in business in record breaking time.
Contact Sales: 201-280-9160