IT Consulting | IT Support | Managed Services | New Jersey Computer Support Services
Has your organization been affected by COVID-19?
Integrated Computers Services understands the unexpected challenges SMB's are facing due to the COVID-19 outbreak. To help you quickly respond to the needs of your employees and keep them safe as they work remotely, we're offering a 60-day trial period of our services. During this period, you will have access to all our expertise, reports, recommendations, and business sustainability.
Free no-risk trial includes:

Managed Security

Multifactor Authentication for Windows Login and Emails
Security Awareness (Anti-phishing) Training 
Next-gen Anti-malware Endpoint protection 
Firewall Security Setup Management
Data Breach Risk Reports
Network Risk Assessments
External Vulnerability Scan
ICS Mail Security (anti-spam) Platform
Why Choose Us?
Microsoft Certified Small Business and Azure Cloud Solutions Provider
24/7 Managed Services and Cybersecurity Bundled into Support Plans
100% Customer Satisfaction and 5 Star Google Business Review
100% US Based Nationwide Technical Support Team
Experience our FREE Managed Services for 60 days. If for any reason you are not satisfied with our services, you can cancel the contract at any time during the 60-day trial -- no obligation.
System Reliability
We deliver proactive monitoring, management, and maintenance services to ensure system uptime
Comprehensive Protection
Enhance cyber security with our best-in-class anti-malware/anti-ransomware solutions
Network Security Assessments
We identify and eliminate vulnerabilities to ensure your data is safe from cyber threats.
Disaster Recovery Solutions
We help you not only recover from disasters, but also avoid them altogether.
Data backup and restoration
We ensure your files are always available and protected from unexpected disasters.
Server care
We proactively monitor and manage your servers, whether they are in the cloud or in your office.
ICS is an award winning Microsoft Certified Silver Partner and Small Business Specialist
As a Microsoft Certified Partner, we are experts at managing and deploying Microsoft® Windows® networks. Our network solutions help you protect your data, increase productivity, and present a more professional image to customers.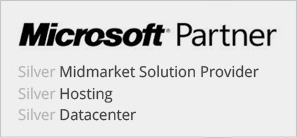 Contact Sales: 201-280-9160