IT Consulting | IT Support | Managed Services | New Jersey Computer Support Services
New Jersey IT Consultants - Integrated Computer Services, Inc.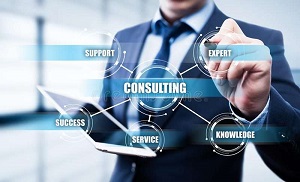 When looking for a New Jersey IT consultant, businesses want a reliable and knowledgeable company that will have their best interest in mind. Companies want to look for an IT consultant that will help them with system selection, topology planning, network design, long-term support, and even system recovery. Otherwise, businesses that do not utilize an IT consultant may have to rely on in-house IT staff that could be overworked and not have the same level of expertise–possibly leading to more downtime and systems not being used to their fullest potential.

Learn About Our IT Assessment Process Schedule a Free IT Assessment
The Need for IT Consultants in New Jersey
Businesses in New Jersey have long needed reliable IT consultants who can provide them with the necessary support and services to keep their operations running smoothly. With the ever-changing landscape of technology, it's become increasingly difficult for businesses to stay ahead of the curve and maintain a competitive edge. This is where New Jersey IT consultants come in. IT consultants are New Jersey's solution to staying up-to-date with the latest technology trends and keeping your business infrastructure running smoothly.
By partnering with a New Jersey IT consultant, you can rest assured knowing that your business is in good hands. From network design and implementation to system recovery and long-term support, IT consultants have you covered. No matter what your specific needs may be, New Jersey IT consultants can tailor a solution that is right for
New Jersey IT Consultants for your Business Needs
As the leading IT consultant in New Jersey, Integrated Computer Services offers a wide range of IT services to meet the needs of businesses of all sizes. Some of our most popular services include:
IT Strategy and Consulting
When it comes to IT, having a well-defined strategy is key to success. ICS can help your business create an IT roadmap that fits your specific needs and helps you reach your goals. We have years of experience in IT consulting, so we know what works and what doesn't. We'll work with you to develop a plan that will help you make the most of your IT investment.
Network Design and Security
A properly designed and secure network is essential for any business. ICS can help you build a network that is both efficient and secure, so you can rest assured that your data is safe. We are experts in network security, and we utilize the latest technologies to keep your data safe from hackers and cybercriminals.
Server and Desktop Management
ICS offers server and desktop management services that will help you keep your IT infrastructure running smoothly. We can manage your servers and desktops, keeping them up-to-date with the latest patches and security updates. We also offer remote support services, so we can fix any problems quickly and efficiently.
Cloud Services
ICS offers a variety of cloud services that can help your business save time and money. We can help you move to the cloud, or we can provide cloud-based solutions that are tailored to your specific needs. Our cloud services are reliable and affordable, and we offer many benefits that traditional IT solutions cannot match.
Managed IT Services
ICS offers comprehensive managed IT services that will help you keep your IT infrastructure running smoothly. Our managed IT services include 24/7 monitoring, support, and security, so you can rest assured that your data is safe and your systems are up and running.
The Integrated Computer Services Difference
When it comes to finding New Jersey IT consultants, Integrated Computer Services is a perfect choice. We have been providing award-winning technology solutions to businesses of all sizes and in all industries since 2002. With our New Jersey-based IT consulting service, you can rest assured knowing that your business IT infrastructure will be proactively monitored, supported, and secured 24/7/365 by New Jersey's Leading Managed IT Service Provider.
Our devotion to Cybersecurity is unmatched and continues to set us apart from other Managed IT Service Providers. The multifaceted approach we utilize is proven to minimize your attack vector, and give you peace of mind.
We love technology, care about our client's success, and always go above and beyond with our white-glove IT support services. Contact us today to learn more about how we can help your business grow as your dedicated New Jersey IT consultants.
Why Choose Us?
Microsoft Certified Small Business and Azure Cloud Solutions Provider
24/7 Managed Services and Cybersecurity Bundled into Support Plans
100% Customer Satisfaction and 5 Star Google Business Review
100% US Based Nationwide Technical Support Team
Contact Sales: 201-280-9160