IT Consulting | IT Support | Managed Services | New Jersey Computer Support Services
Microsoft Server 2012 Setup and Installation for New Jersey
Integrated Computer Services provides expert level Windows Server 2012 deployment, administration and management to small and medium business across New Jersey. Windows Server 2012 is a perfected operating system which offers a cost-effective infrastructure, a modern application platform, and flexibility in how users can access their data and applications. Server 2012 includes improvements over Server 2008 and offers a cloud-optimized server platform allows you the flexibility to build and deploy applications and websites on-site, in the cloud, or across both.
Proposal Request for Server 2012
FREE On-site Network Evaluation
Windows Server 2012 Capabilities
Virtual Desktop Infrastructure (VDI)- allows you to deploy remote desktop services that provide employees the flexibility to work anywhere, while allowing them to access their corporate desktop or application environment.
Access & Information Protection - improvements to Active Directory, Dynamic Access Control, which provides data classification and protection system with centralized access control, and DirectAccess, which offers users seamless, more secure access to corporate data.
Storage - Server 2012 provides greater efficiency, and performance with more storage choices and new features and enhancements for disk, network, and storage area network solutions
Server Management and Automation- Server 2012 is an integrated platform with comprehensive, multi-server manageability that provides increased efficiency, simplified server and server role deployment, and automation.
Web and Application Platform - provides flexibility through hybrid, symmetrical, and web-based applications on-site, and in a cloud environment.
Windows Server 2012 Capabilities
Tiered Storage - Allows most frequently accessed files on a system to be stored on the fast storage medium available (such as SSDs) and file the rest on other drives.
Work Folders - Enables users to have access to data by replicating user data to corporate file servers then back out to other devices. Data is encrypted and if a user in un-enrolled from management, the data is removed.
Live Virtual Machine Compression - The Ability to compress live VMs when moving from one server to another. Time of migration is cut down considerably.
Hyper-V Recovery Manager - Hyper-V Recovery Manager manages a number of backup VMs. In case a primary site goes down, the service will automatically switch operations to VMs at the backup location.
Call now to speak with a technology specialist:(201) 280-9160
ICS is an award winning Microsoft Certified Silver Partner and Small Business Specialist
As a Microsoft Certified Partner, we are experts at managing and deploying Microsoft Windows networks. Our network solutions help you protect your data, increase productivity, and present a more professional image to customers.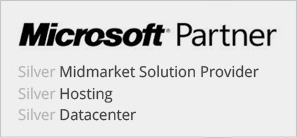 Why Choose Us?
Microsoft Certified Small Business and Azure Cloud Solutions Provider
24/7 Managed Services and Cybersecurity Bundled into Support Plans
100% Customer Satisfaction and 5 Star Google Business Review
100% US Based Nationwide Technical Support Team
Download our brochure to learn more about us

Download our company overview for more information about us

Download Brochure
We Offer:
Microsoft Silver Certified Partner
Dynamic Support | Managed IT
Cloud Computing for Business
Our NJ Services Area

Contact Sales: 201-280-9160