IT Consulting | IT Support | Managed Services | New Jersey Computer Support Services
Microsoft Office SharePoint Server 2007 Installation and Consulting

SharePoint Server 2007 Allows You to Streamline Business Processes
Integrating SharePoint in your organization allows your employees to:
Post shared reports and libraries
Retrieve organizational documents and data
Coordinate workflow in all areas
Publish Internal training material and Guides
Browse and post calendar of events and news
Customers and Vendors can connect to your SharePoint Server to:
Place Orders
Submit field-service support requests
Access data libraries
Review organizational bulletin boards
Review Bids and PO's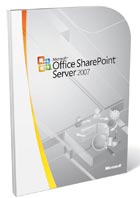 Microsoft Office SharePoint Server 2007 Overview
Manage content and processes
Manage content and processes Simplify compliance efforts and keep business information more secure through a comprehensive set of tools to manage and control electronic content. Streamline the everyday business processes that are a drain on organizational productivity by using electronic forms and out-of-the-box workflow processes that users can initiate, track, and participate in through familiar Microsoft Office applications, e-mail, or Web browsers.
Control documents through detailed, extensible policy management. Define customized document management policies to control access rights at a per-item level, specify retention period and expiration actions, and track content through document-auditing settings. Policy integration with familiar client applications makes compliance transparent and easy for employees. Integration with Information Rights Management helps ensure that proprietary and confidential information is better protected even if it is not connected to a server.
Centrally store, manage, and access documents across the enterprise. Organizations can store and organize all business documents and content in one central location, and users have a consistent mechanism to navigate and find relevant information. Default repository settings can be modified to add workflow, define retention policies, and add new templates and content types.
Simplify Web content management. Provide easy-to-use functionality to create, approve, and publish Web content. Master Pages and Page Layouts provide reusable templates for a consistent look and feel. New functionality enables enterprises to publish content from one area to another (for example, from a collaborative site to a portal), or to cost-effectively manage multilingual delivery of content on multiple intranet, extranet, and Internet sites.
Extend business processes across the organization. Forms Services–driven solutions make it possible to more securely and accurately collect information both inside and outside the organization without coding any custom applications. This information can then be integrated easily into line-of-business systems, stored in document libraries, used to start workflow processes, or submitted to Web services, thus avoiding duplicate effort and costly errors resulting from manual data entry.
Streamline everyday business activities. Take advantage of workflows to automate and gain more visibility into common business activities such as document review and approval, issue tracking, and signature collection. Integration with familiar Microsoft Office client applications, e-mail, and Web browsers simplifies the user experience. Organizations can easily modify the out-of-the-box processes or define their own processes using familiar Microsoft tools such as Microsoft Office SharePoint Designer 2007 (the next generation Microsoft Office FrontPage) or Microsoft Visual Studio development system.
Improve business insight
Effectively monitor business drivers, empower better informed decisions throughout the organization, and proactively respond to important business events.
Present business-critical information in one central location. Create live, interactive business intelligence (BI) portals that assemble and display business information from disparate sources by using integrated BI capabilities such as dashboards, Web Parts, key performance indicators (KPIs), and business data connectivity technologies. Centralized Report Center sites give users a single place to find the latest spreadsheets, reports, or KPIs.
Quickly connect people with information. Enterprise Search in Office SharePoint Server 2007 incorporates people and business data along with documents and Web pages to provide more comprehensive results. The Search Center provides a single integrated location for employees to find content, processes, people, and business data relevant to their specific needs. This enables people and organizations to make decisions based on the latest information and facts more quickly.
Share business data broadly while helping to protect sensitive information. Excel Services running on Office SharePoint Server 2007 provides access to data and analytics in real time, interactive Microsoft Office Excel spreadsheets from a Web browser. Use these spreadsheets to maintain and efficiently share one centralized and up-to-date version while helping to protect any sensitive or proprietary information embedded in documents (such as financial models).
Take advantage of your unstructured business networks to drive better decisions. Employees can use new knowledge management tools to get the most from their powerful unstructured business networks, both inside and outside their organizations, thereby connecting with people more quickly and efficiently. By exploring these undocumented business relationships and finding subject-matter experts, individuals are able to make better decisions more quickly.
Unlock business data. The Business Data Catalog enables structured data from line-of-business applications, such as SAP and Siebel systems, to be integrated into Office SharePoint Server 2007 through Web Parts, lists, people profiles, search, or programmatically. Centrally managed connections to back-end systems can be defined once and then reused by end-users to access back-end data without writing any code — easily making business data part of portal content. The Business Data Catalog also provides the ability for Enterprise Search to integrate back-end business data into the search experience, without having to write any protocol handlers, iFilters, or custom code.
Why Choose Us?
Microsoft Certified Small Business and Azure Cloud Solutions Provider
24/7 Managed Services and Cybersecurity Bundled into Support Plans
100% Customer Satisfaction and 5 Star Google Business Review
100% US Based Nationwide Technical Support Team
Download our brochure to learn more about us

Download our company overview for more information about us

Download Brochure
We Offer:
Microsoft Silver Certified Partner
Dynamic Support | Managed IT
Cloud Computing for Business
Our NJ Services Area

Contact Sales: 201-280-9160