IT Consulting | IT Support | Managed Services | New Jersey Computer Support Services
Oct 14 2014
Views 58
Helpful Ways to better Manage Your Emails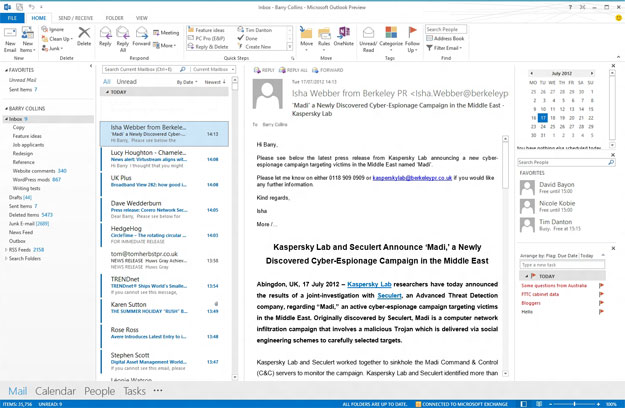 If you're like the rest of us, sometimes the influx of emails that flow into your inbox could become a little overwhelming. Below are just a few simple tips to help keep your emails from piling up to an unmanageable amount!
Rules and Filters are tools that can make life a little bit easier. With rules, you will have a lot of different options when it comes to organizing all those emails that come in. For instance, if you have an individual who sends personal emails, and you would like to keep them separate from your business emails, you have the ability to create a separate folder. You are able to have it set up so that emails from this individual will go directly into a new folder you set up called "personal'. You can set up folders to better categorize your incoming emails.
Automatic notifications are not always necessary. These constant alerts draw our attention away from the current task that we are working on. Most of the time these notifications are for nothing more important than what we already have going on. In other words, these notifications are just distractions pulling us away from what we're working on. Check your emails on your own time, don't be held prisoner by these alerts.
Another helpful tool is the website unenrollment tool. This service is great because it will save you a lot of time when wanting to unsubscribe to newsletters you've signed up for also ones that you don't realize you've been signed up for. Instead of opening each newsletter individually and clicking unsubscribe, this tool puts them all in a convenient list for you. The only thing you need to do at this point is click unsubscribe.
Making sure you end your emails in a clear fashion. It is a good technique to end your emails in a manner that doesn't warrant a response if necessary. Instead of wording your emails in a way that gives invitation for a long back and forth email chain, just be informative and to the point.
Utilizing these tips will cause a noticeable difference in the organization and cleanliness or your inbox. Cleaning up your email will feel like a weight off your shoulders and you be glad you did it. A clean home is a happy home
If you have any questions, please feel free to contact us at: (201) 280-9160
Why Choose Us?
Microsoft Certified Small Business and Azure Cloud Solutions Provider
24/7 Managed Services and Cybersecurity Bundled into Support Plans
100% Customer Satisfaction and 5 Star Google Business Review
100% US Based Nationwide Technical Support Team
Download our brochure to learn more about us

Download our company overview for more information about us

Download Brochure
We Offer:
Microsoft Silver Certified Partner
Dynamic Support | Managed IT
Cloud Computing for Business
Our NJ Services Area

Contact Sales: 201-280-9160