IT Consulting | IT Support | Managed Services | New Jersey Computer Support Services
Jul 22 2022
Views 171
Our Proven Small Business IT Infrastructure Checklist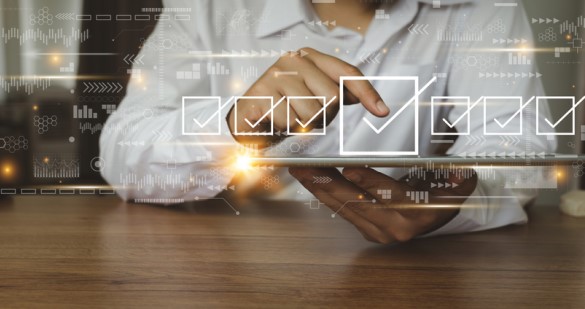 Did you know that over 27% of small businesses don't have IT support? That's a lot of small businesses struggling to get by without the proper IT infrastructure in place. Setting up the IT infrastructure for your small business can be a daunting task. There are many components to consider, and it can be hard to know where to start. That's why we've created this small business IT infrastructure checklist.
This guide will walk you through the steps you need to set up a solid foundation for your business's technology needs. Follow these steps, and you'll be well on your way to having a thriving small business:
Computers
Your business is only as good as your IT infrastructure. If you're still running your business on an old, patchwork network of computers, it's time for an upgrade.
Your computers play a vital role in every aspect of your business, from accounting and customer service to product design and marketing. Ensure you're using the best possible hardware to help you run your business more efficiently and improve communication between employees. It will also give you a competitive edge by giving you access to powerful business applications and data storage.
Business Network
Is your business network secure? Do you have the right mix of security software and hardware in place to protect your data? Does your company network have the capacity to handle all of your business's internet traffic?
Every small business needs a well-designed business network to keep its company data safe and secure. The network will also provide you with the bandwidth and capacity you need to support all your internet-based operations. Designing the perfect network for your business isn't an overnight task. The first step is to understand your business needs. What type of data does your company generate and store? How much internet traffic does your business need to support? What are your company's compliance requirements?
Once you clearly understand your business needs, you can start designing your network. Talk to your IT team or hire a consultant to help you select the right mix of security software and hardware for your business. Make sure to test your network before you go live. Run some stress tests to see how well it performs under heavy traffic conditions. You don't want to find out that your network can't handle a sudden surge in internet traffic after you've already launched your business.
Cyber Security Infrastructure
Cyber security infrastructure will help you keep your company data safe. Businesses of all sizes are targets for cybercrime, and the consequences of a data breach can be devastating.
In fact, over 60% of small businesses that experience a cyber-attack often go out of business within the next six months after the attack. That's why it's so important to have a robust, secure IT infrastructure in place.
But what exactly do you need to create a secure IT infrastructure for your small business? Here's a checklist to get you started:
A firewall to protect your network from external threats.
Anti-virus and anti-malware software
A secure password policy: This will help to keep your passwords safe and secure.
A data backup plan to back up your data in case of a disaster.
A disaster recovery plan
You can create a secure IT infrastructure for your small business by following this checklist. Don't wait until it's too late - start today!
Software Applications
When your business is still new, you may get away with using manual processes and a limited number of software applications. But as your company grows, you'll need to start automating more processes and using more software applications to manage your business data. That's why it's essential to have a robust IT infrastructure in place from the start.
Here's a checklist of the most common software applications used by small businesses today:
CRM (Customer Relationship Management) Software
ERP (Enterprise Resource Planning) Software
Accounting Software
Payroll Software
Time Tracking Software
Project Management Software
Marketing Automation Software
These are just a few of the most common software applications small businesses use. But as your business grows, you'll need to re-evaluate your software needs regularly. Depending on the type of business you have, ensure you employ software applications that can help you run your operation more efficiently.
Servers and Cloud Infrastructure
Servers provide the infrastructure for companies to store and share data. They are big pieces of hardware that store lots of data and are usually located in a climate-controlled room called a data center. Servers store essential company data like customer information, financial records, and employee files. Think of a server like a filing cabinet. It's a place where you can store all of your company's essential documents in one central location.
Most small businesses don't have their own data center or server. Instead, they rent space on a shared server. This is called "cloud computing." Cloud computing offers businesses a way to access storage and servers over the Internet. It's an excellent option for small businesses because it's less expensive than buying your own hardware. And, if you use a reputable company, your data will be just as secure as it would be on your own server.
Smartphones
Smartphones allow employees to stay connected to company data and business apps while on the go. That's why they are an essential part of any small business IT infrastructure.
However, smartphones can also be a security risk if they are not properly managed. Here are a few tips to help you keep your small business data safe:
Only allow trusted employees to access company data on their smartphones
Require employees to use a secure lock screen on their smartphone
Install and maintain a mobile device management (MDM) solution
By following these tips, you can help ensure that your small business data is safe and secure.
Follow the Above Small Business IT Infrastructure Checklist
Would you like to create a secure IT infrastructure for your small business? Then, follow the above small business IT infrastructure checklist and implement these IT solutions for business today. Don't wait until it's too late — start building your secure IT infrastructure today!
If you need help getting started, contact us, and we'll be happy to assist you. We specialize in helping small businesses create a robust IT infrastructure that meets their specific needs.
If you have any questions, please feel free to contact us at: (201) 280-9160
Our Credentials and IT Services:
Award Winning (MSP Mentor) Managed Services Provider
Microsoft Silver Certified Partner & Small Business Specialist
Managed IT Security Services Bundled into Support Plans
Your Local and Reliable New Jersey IT Consultants
Download our brochure to learn more about us

Download our company overview for more information about us

Download Brochure
We Offer:
Microsoft Silver Certified Partner
Dynamic Support | Managed IT
Cloud Computing for Business
Our NJ Services Area